Team USA and Preds GM David Poile: "I have no sight in my right eye"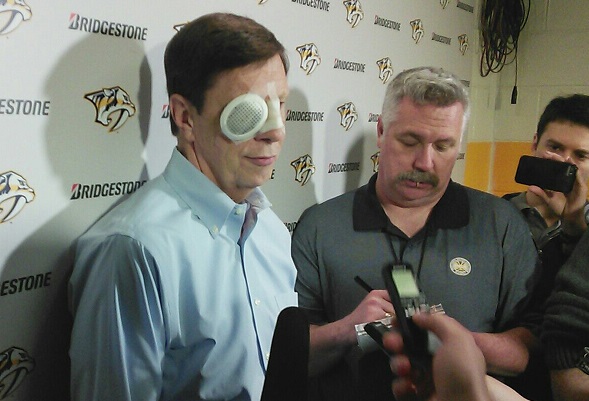 Nashville Predators General Manager David Poile spoke with the media for the first time since taking a puck to the eye before a game in St. Paul, Minnesota on February 6.
"At this time, I have no sight in my right eye," Poile said. "The doctors are holding out hope that, in time and there will be some sight coming back there but, at the moment, that's where we are."
The extent of the injuries he suffered? Unfortunately, it's a laundry list.
"I've fractured my nose in three different places, the orbital bone was broken above and below the eye, there were 40 stitches above the eye. They've taken the stitches out [since] and the nose cast is going to come off soon."
"I was clearly in the wrong place at the wrong time," Poile said. "It happened, life goes on and I'm ready for the challenge."
Poile is also the GM of the United States men's Olympic team who is still in contention for a gold medal. He would normally travel with the team to Sochi, Russia but, when the injury occurred, he was forced to cancel those plans.
"It's certainly disappointing," Poile admitted. "But I couldn't be more proud. Clearly, to this point, the USA is the best team. All the things that we did to put the team together have come to fruition. I couldn't ask for a better scenario than playing Canada tomorrow."
When asked what his role with the team has become, Poile simply said "cheerleader."
With 13 days until the NHL trade deadline — and the Preds just four points out of a playoff spot — there's some work to be done here at home as well.
"I got everything I need," Poile said. "I got my phone, I got my computer and we're organized."
—
PHOTO CREDIT: Tom Willis // predlines.com