Rinne gets closer to Nashville by going to Milwaukee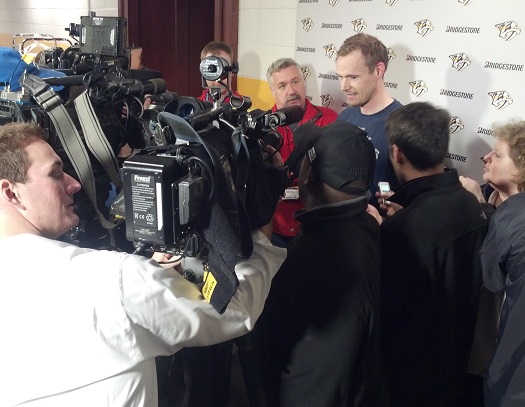 As we wrote yesterday, the Nashville Predators confirmed that goaltender Pekka Rinne is headed to the Milwaukee Admirals for a conditioning stint.
After he made it through an entire full practice with his teammates, the Preds made the announcement
"I'm really looking forward to it," Rinne said with a smile on his face. "It's a big day for me, getting the green light from the doctors. It's been a long road and I'm looking forward to getting back on the ice."
Milwaukee has games on Friday and Sunday, both at home. Whether he gets the start in both games will be determined by how he feels.
"Day-to-day," Head Coach Barry Trotz said. "That's how we're going to play it."
Rinne is a two-time AHL All-Star and led the Admirals to the 2006 Calder Cup Finals. He hasn't donned the skeleton head since April of 2008.
The official press release is below.
***
Milwaukee, WI– Nashville Predators President of Hockey Operations/General Manager David Poile announced today that goaltender Pekka Rinne has been sent to the Admirals on a conditioning assignment.
Rinne was beginning to find his groove following off-season surgery, having turned aside 120-of-128 shots to post a 1.60 goals-against average and a .937 save percentage in his last five outings (3-1-1) before being sidelined with a bacterial infection on Oct. 23, 2013. The two-time Vezina Trophy finalist has been among the League's elite since becoming a full-time starter in 2008-09, ranking first in shutouts and among the Top 10 in wins, save percentage and goals-against average prior to his current injury. He is one of just two netminders in franchise history to appear in 300 games for the club, and is just four wins shy of tying Tomas Vokoun's mark for most wins by a goaltender. (157; Vokoun, 161).
A season ago, the Kempele, Finland native was named the greatest Admiral in the team's 35-year history after posting 81 wins, a 2.54 goals-against average and a .911 save percentage from 2005-08. He was a two-time AHL All-Star, won 30 games in a season in 2005-06 and 2007-08, and led Milwaukee to the 2006 Calder Cup Final.
The Admirals have three home games on tap for this week, beginning Wednesday night when they host the Grand Rapids Griffins at 7:00 pm at the BMO Harris Bradley Center. Rinne is not expected to be here for Wednesday's game.
Fans can order tickets by calling Ticketmaster at (800) 745-3000 or by logging on to the Admirals website at www.milwaukeeadmirals.com. Groups of ten or more receive a minimum of $2 off each ticket. For more information or to order group tickets fans should call (414) 227-0550.
Don't forget to follow the Admirals on Twitter (@mkeadmirals) and on Facebook!