Teemu Laakso, not Aaron Johnson, recalled by Nashville…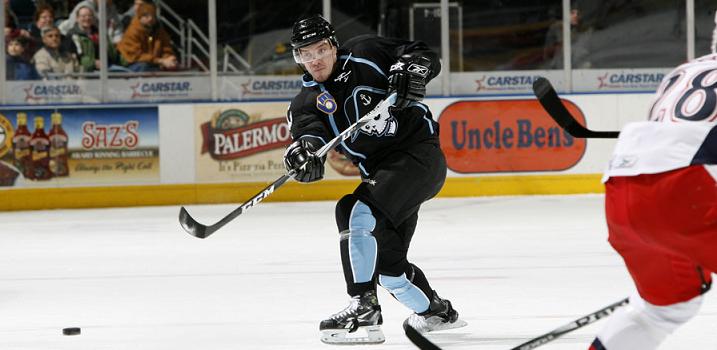 Milwaukee Admirals defenseman Teemu Laakso has been recalled by the Nashville Predators.
Kevin Klein was shelved when he took a puck off the ankle late in Tuesday's contest against the San Jose Sharks, prompting the need for a recall. It wasn't thought that Laakso would get the summons, however. Many speculated (including this guy) it would be the veteran Aaron Johnson to replace the injured Klein. With Francis Bouillon on injured reserve, rookie Jon Blum already in the lineup and Cody Franson in just his second NHL season, it was highly possible the Preds would call on 225 games of NHL experience. Instead, they opted to recall Laakso who has just eight NHL games under belt.
For those wondering, Johnson would not have to clear waivers were he to be recalled so that didn't factor into the choice.
The problem here is that the Predators are no longer in the Western Conference top eight. They're on the outside looking in and tonight's game, against a team immediately above them in the standings, is a huge one. At an average age of 24.3 years, the addition of Laakso makes the Nashville blueline the youngest in the league. Sure Shea Weber and Ryan Suter have 387 and 448 NHL games under their respective belts, but Blum, Franson and Laakso have just 142 games combined. Throw Shane O'Brien in the mix and now you're looking at a total of 1,341 NHL games worth of experience on the blueline. For contrast, the Boston Bruins (who also have two rookie defensemen in their lineup) have 2,455 games of experience.
Also, Weber and Suter may seem like seasoned veterans but we often forget they're only 26 and 25, respectively.
Working in Laakso's favor is his Milwaukee-best plus-16 rating. He provides a moderate amount of offense, as illustrated by his 22 points in 58 AHL games this season, but that plus-16 and his ultra-low 0.55 PIM per game average makes him desirable for Nashville. Especially because Klein is one of their top penalty killers. They'll need Laakso to plug his spot in the lineup and, basically, play mistake-free hockey. Johnson, for example, averages basically one penalty every other game (0.97 PIM/G) meaning he's more of a liability. At least on paper.
Also, as Joshua Cooper of the Tennessean pointed out in his blog this afternoon, the Finnish defenseman is a right handed shot. Klein is also right handed so it would be easier to insert Laakso in for Klein straight-up seeing as how they shoot from the same side.
So expect to see Laakso in the lineup tonight. He logged just 2:43 of ice time in his only other NHL game this season.
The last time Laakso donned a Predators sweater, Bouillon, Cal O'Reilly, Steve Sullivan and Alexander Sulzer were all in the lineup.
What a difference four months makes.
—
PHOTO CREDIT:  // Milwaukee Admirals (used with permission)