Three Minutes With: Preds prospect Austin Watson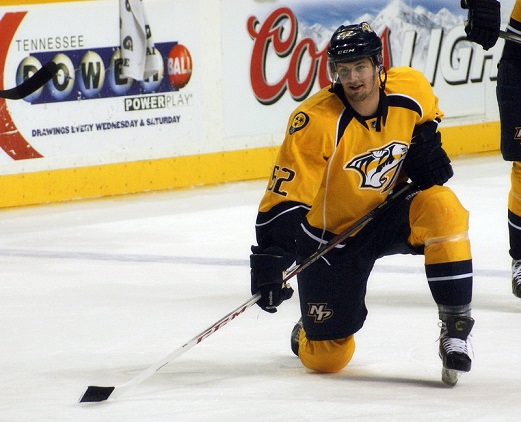 Every year during Development Camp, we pick Nashville Predators prospects, players, coaches and personalities to be a part of our Three Minutes With… interview series. The summer of 2013 is no different and we're bringing you a great lineup this year.
In today's edition, we sit down with Milwaukee Admirals center and Predators prospect Austin Watson. Finally getting a taste of the NHL last year, the 2010 first round pick bagged his first NHL goal (and point) on April 23 against the Calgary Flames. We asked him about that first goal, his time in Milwaukee, how he prepares now that he's seen the NHL level and his expectations going forward.
***
section303.com: Kind of feel weird being one of the veterans in development camp here?
Austin Watson: Yeah a little bit. I still remember my first camp just being real nervous and unsure what was going on.
303: Since being drafted in Los Angeles, you've played in Peterborough, London, Milwaukee and Nashville, you've played in a Memorial Cup Final, two Calder Cup Playoffs and your first six NHL games. Whirlwind?
AW: I think so. For me, getting a chance to play in Milwaukee last year and get off to a pretty good start in my pro career was awesome. The coaches there are great. Dean (Evason) and Stan (Drulia) helped me incredibly with my game and getting me ready to make a debut in the NHL. Obviously, getting a taste of that at the end of the year was awesome and you just want more after that.
303: How was that first goal for you? What did that feel like?
AW: I think all the emotions that you can think of wrapped into one. It was exciting, emotional, and obviously a relief too. It was crazy. It was a feeling of adrenaline and a rush that's hard to explain.
303: You a big memory guy? Will that be something you always remember?
AW: I don't think anybody would really forget their first goal. I think it's kind of engraved in there.
303: Pop quiz: do you know who the goaltender was?
AW: Miikka Kiprusoff. *laughs*
303: *laughs* Now obviously you want to make the club out of training camp but, with the Predators signing four free agent forwards, that's going to make things a little more difficult. Do you worry about that at all or can you even worry about that?
AW: It's been a been a big question all week I think but you can't worry about that. That's out of our control as players. They're four great players and four proven players in the league so they'd be a great addition to any team. So, for me, it's more about what I can do and what I can do this summer. Obviously, you're going to have to come in here (during training camp) and really show that you deserve a shot and that you should be given a shot. It's competition every year and it's just going to get harder. For me, just to continue to work this summer. I know now, from my little bit of experience, how hard I do need to work and where I need to get to. I'll come to camp prepared and have no doubts in mind and be ready to play.
303: Does that help you prepare at all? Having had that cup of coffee at the NHL level?
AW: Definitely. Definitely. We talk every summer about how we're working hard and how we're working out but, until you see it first hand and experience just how strong and quick the guys are and how that continues 60 minutes a night is a big eye opener. For me, I think that was kind of a turning point in the way I take care of myself and treat a summer. This is a 12-month job, it's not seven or eight months. So, to really realize that is something for me that I think will be huge.
303: Finally, a lot of players say that, once they make the NHL, the game kind of "slows down" for them. Do you feel that it did that?
AW: A little bit. I mean, it was still quick but it doesn't slow down so much as that you feel comfortable and confident in your abilities at that level. After four or five games, you start trusting yourself to make plays that you would normally make in the American League. I started being more calm with the puck. I know Coach Trotz said something about it late in the season about a couple panic plays that I had made. But, you know, as you get more time you start to get more confident in yourself.
303: Thanks so much.
AW: Yep.
—
PHOTO CREDIT: Sarah Fuqua (used with permission)