Trade(s) coming for Preds with overflow of roster players?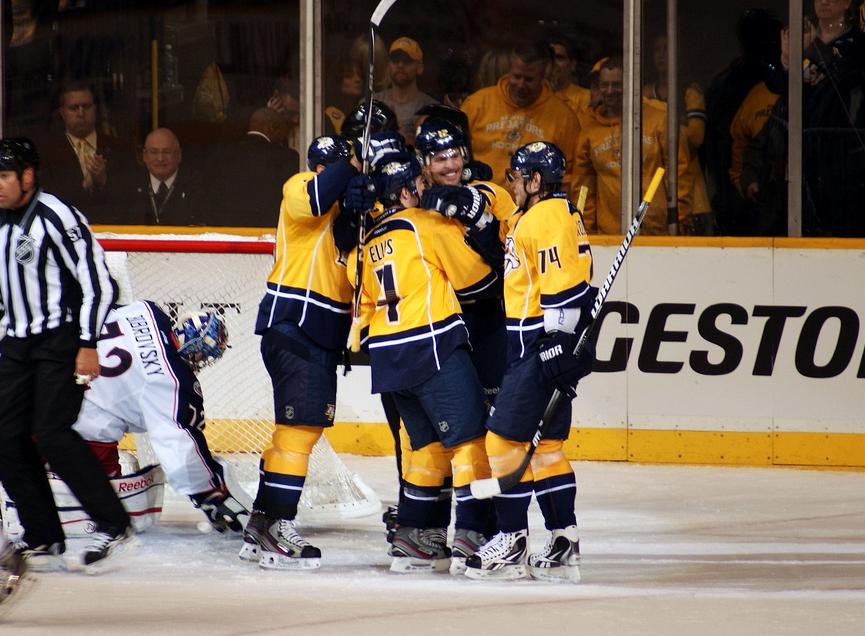 The Nashville Predators are no strangers to tough decisions. It's been a long time — if ever — since they've been in this position though.
Restricted free agent Nick Spaling signed a one-year deal worth $1.5 million yesterday in order to avoid arbitration. As a result, Nashville has 15 forwards and seven defensemen who warrant an opening night roster spot. Considering they can only dress 12 and six, General Manager David Poile has some tough decisions in front of him.
"The next phase for us is assessing where we are (roster-wise)," Head Coach Barry Trotz said. "We've got a number of forwards. We've got to decide what we're going to do there."
The coaching staff has plenty of options. The following set of line combinations is just one example of what they could roll out opening night:
| | | |
| --- | --- | --- |
| Viktor Stalberg | Matt Cullen | Colin Wilson |
| Filip Forsberg | Mike Fisher | Patric Hornqvist |
| Gabriel Bourque | David Legwand | Taylor Beck |
| Matt Hendricks | Paul Gaustad | Eric Nystrom |
.
That leaves three players on the outside looking in. Penalty kill extraordinaire and jack-of-all-trades Spaling, tough guy and fan favorite Rich Clune who just signed a two-year extension and talented but wildly inconsistent Craig Smith. That's an entire line the Predators have sitting out.
While it's true that Taylor Beck is still eligible to be sent back to the Milwaukee Admirals, most believe he earned an NHL roster spot with his strong play last season. On a terrible team that was riddled with injuries, the 2009 third round pick still managed to tally seven points in 16 contests, averaging nearly half a point per game. Considering it was his first stint at the NHL level, that's saying something. Furthermore, he didn't shy away from the physical part of the game and willingly went into the dirty areas, something very few Predators have been willing to do in recent years. So, for sake of argument, we're counting him in.
And then there's the defense. Shea Weber and Roman Josi probably make up the top pair, Kevin Klein and Seth Jones most likely create the second while Victor Bartley and one of Mattias Ekholm or Ryan Ellis are slotted at the bottom. Of those seven guys, only Weber and Klein have played more than 100 NHL games so the blueline is alarmingly young. The question becomes which of Ekholm or Ellis cracks the lineup or does Nashville need a more veteran presence and one (or both) are used as trade bait?
"I really like our defense," Poile said. "And I like the potential of, now, Josi and what he can do, Ryan Ellis and what I believe his abilities are, Mattias Ekholm is going to play for us this year and Bartley will be here for a second year. But, as you know, we've always been really big on making sure we have one of the best defenses in the National Hockey League and we have to look at that versus what we have in-house."
New Assistant Coach Phil Housley is a former NHL defenseman. He's ranked second all-time in scoring among American-born NHL players and was brought in to help Josi, Ekholm and Ellis. It would be a shame to see one of them leave without having worked with a guy who made a Hall of Fame-caliber career out of playing their same style. But, as the roster currently sits, somebody's going to be on the outside.
So what do they do with the overflow?
"I think there are still some deals out there," Trotz said. "Through the grapevine I'm hearing there's still some deals out there. Maybe we can get in on some of them."
If they're going to acquire that superstar forward, the trade route is the way to go since it was slim pickings during free agency (and since they curiously passed on Mikhail Grabovski when he was on waivers in early July). Big name players like center Ryan Getzlaf and winger Corey Perry all re-signed prior to July 5 so the mission quickly became getting the best of the second tier.
"We couldn't get a superstar because there was no superstar to get," Brent Peterson, Advisor for Hockey Operations, told Sports Night on Friday.
Cullen and Viktor Stalberg are certainly upgrades to the Nashville attack but there's still a need for that elusive top six forward — in particular a top line center — who can put the puck in the back of the net with regularity.
"We're actively looking," Assistant General Manager Paul Fenton told us after the draft. "The time table is not this exact minute. You have to be patient. But are we actively looking for something? Yes we are. There's no question."
There are certainly other Predators who are movable but some names are obvious. Smith should have some value thanks to his white hot NHL debut two seasons ago, was just invited to Team USA's Olympic camp and his performance at the World Championships this past May. He's a speedster with a good shot and has proven (albeit inconsistently) that he can contribute at the top level. Ellis is another guy who's name carries value. During his illustrious junior career with the Windsor Spitfires, he was a two-time Memorial Cup Champion, a CHL Player of the Year, a World Junior gold medalist and a two-time World Junior silver medalist, among other accolades. The 22-year old Freelton, Ontario, native has a trophy case the size of most people's bedrooms yet still hasn't found a full-time spot on the Predators' deep defense corps. Is it his size? Possibly, but he's still a household name in Canada and throughout the hockey world. If he's too small at 5'8″ for top pairing minutes, a team could put him on their third pair during even strength while utilizing his assets to quarterback the power play.
If the Predators were able to package Smith and Ellis in a trade, they wouldn't be impacting their NHL roster much and they'd be getting something of value out of two players who, at this point, won't see much ice time. And make no mistake, just because a player isn't valuable to one team doesn't mean he isn't to another. It's all about need and there are plenty of teams who need a fast forward like Smith and a powerplay quarterback with a booming shot like Ellis.
The best part (in a weird way)? They're expendable. The addition of Filip Forsberg last season and Stalberg this summer gave Nashville the best traits of Smith. Likewise, the development of Ekholm and Josi (as well as the drafting of Jones) gave the Predators the best traits of Ellis. Admittedly, seeing Ellis or Smith go elsewhere only to blow up offensively would hurt but, as it stands right now, neither will get that chance in Music City.
And, if there's one thing that Poile and Trotz are good at, it's making something out of nothing.