Three Minutes With: first round pick Seth Jones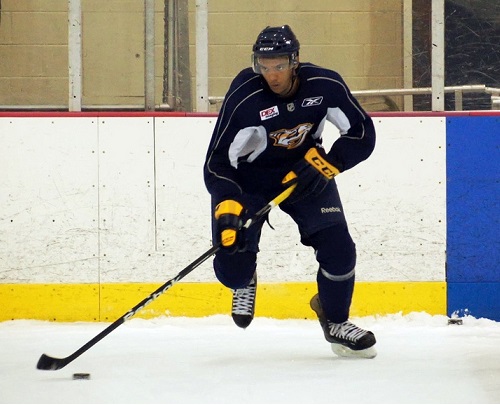 Every year during Development Camp, we pick Nashville Predators prospects, players, coaches and personalities to be a part of our Three Minutes With… interview series. The summer of 2013 is no different and we're bringing you a great lineup this year.
In today's edition, we sit down with first round pick, WHL Champion, Memorial Cup finalist and 2013 World Junior gold medalist Seth Jones. The consensus number one prospect in the entire 2013 NHL Draft, Jones fell to the Preds at four because the Colorado Avalanche, Florida Panthers and Tampa Bay Lightning elected to choose forwards. As a result, Nashville got the top player on their board and a potential cornerstone defenseman.
***
section303.com: You played an entire season with Portland, traveled over to Russia to compete with Team USA at the World Juniors, advanced every round and ended up winning the WHL Championship and played in the Memorial Cup. Oh yeah, and then right after that, you find yourself at the NHL Draft. Have you had a chance to breathe?
Seth Jones: *laughs* Not really. It's definitely been a long season. I think someone calculated it out to 94 games I believe this season which is a lot of games. I did a lot of traveling with a lot of time zone changes. Right after the season, and right after the Memorial Cup, I got a chance to relax a little bit. I had the NHL Combine obviously but, after that, I relaxed for a couple weeks before the draft. But that's my only time. Now I'm trying to train and I'm here and, after this, I'm going to go back home and train and try to get better.
303: When we saw you at the draft, you sounded exhausted.
SJ: I was pretty tired, I'll be honest. I got there four or five days before and did a lot of media. I mean, a lot. They had me and Nate (MacKinnon) and Jon (Drouin) and some of those guys going 9 to 5 everyday. I didn't get a lot of time to spend with my family but, you know, I definitely took a deep breath after that because I knew then I'd have at least a week or so to just relax and go home and enjoy the time.
303: But you want to enjoy the moment. The draft is a big deal. Were you able to?
SJ: Yeah, for sure. This is a once in a lifetime thing. You're not going to go through the draft, and all this hype or whatever, again so you try to be as grateful as possible towards it. There's just a lot of stuff that goes with it. That's going to come with it and that's just part of being an NHL player, going through that kind of stuff.
303: Did you form friendships with those guys? I mean, you played against them in the Memorial Cup Final but then, a week later, you're doing media stuff with them at the draft.
SJ: Yeah. I've known Nate for four or five years. I've known Jonathan just this year but I enjoy being around both of them. We've spent a lot of time together at the Memorial Cup, the combine and the draft. I'm very happy for them right now — they've both signed their contracts as well — so I wish them the best.
303: How does it feel now? To be here in camp and to have signed your first pro contract?
SJ: It feels unbelievable. It feels very surreal. I just signed my contract so I've still got the chills and stuff like that. It just means you're one step closer to kind of being there and that's what I'm working towards. I know I have to train and get better physically and mentally for the beginning of training camp if I'm going to be able to make the team.
303: Thanks. And congratulations again.
SJ: Thank you.
—
PHOTO CREDIT: Sarah Fuqua (used with permission)