Three Minutes With (Lockout Edition): Roman Josi…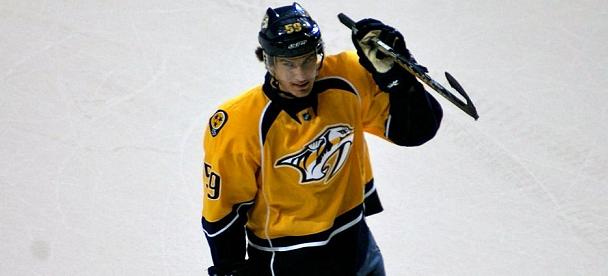 This is our first in a multi-part series during the NHL lockout.
***
Defenseman Roman Josi was known for a while as "the best Swiss player not in the NHL." But after finishing last season with the Nashville Predators, the Bern, Switzerland native became a staple on the blueline. Josi will return to his native country in order to play with Bern until a new collective bargaining agreement between the NHL and the Player's Association can be reached.
During the informal practices this week, we spent three minutes with Josi and discussed that very topic, along with a certain back-to-back Norris Trophy runner-up who is slated be his partner once the 2012-13 campaign resumes.
section303.com: I know you're eager to get the season started here in North America but is it kind of a cool thing to play pro hockey in your home country of Switzerland?
Roman Josi: Yeah, I mean, I grew up there and played all of my life there. I played juniors there and two years pro and then came over. It's too bad the season's not starting here but it's a good opportunity to play over there. We all hope it's going to start soon (here) though.
303: You've played in Switzerland before, obviously, but is this something you really embrace? Being able to play hockey for Bern — your home town — in the middle of your NHL career?
RJ: Not really. Because I didn't expect there to be a lockout. *laughs* It is what it is now, though. But, yeah, it's a lot of fun over there and it's a great league. A lot of NHL players are going to be playing there and it's very fast paced. And I live five minutes away from the rink so it works out.
303: What is it like for guys and their families to head over to Europe and play but always have one ear toward North America, knowing the season could start at any time. It could be next week, it could be next month, it could even be next year.
RJ: You don't really know what's going on or when the season will start so you just kind of wait. But, especially as a young guy, it's important to play games and not just practice so that's why I'm going over there and try to get all those games in. There's nothing you can do. If it starts, you come back here. If not, you just keep playing.
303: When you make the decision to go overseas and play, you're weighing a lot of options, right? The risk of injury, the risk of travel, etc. What goes through your mind when you make that decision?
RJ: Like I said to someone earlier, as a young guy, you just want to play games. It's not good if you just practice and not play any games. But there's always the risk of injury, no matter where you play or when you play. That's just sport. You just don't try to think about it.
303: Finally, you're penciled in to be skating with Shea Weber on that top pairing this year. Two questions. One, are you ready to log 24:00 to 26:00 a game and two, how excited are you to get that opportunity?
RJ: Well, we'll see if I'm able to. *laughs* But yeah, it's a big opportunity to me. It would be great to play next to Shea. He's probably the best defenseman in the league and… yeah, that would be a dream come true to play next to a guy like him. I've worked my butt off all summer and I'm going to do the same thing now and, if the season starts, I hope to (embrace) that opportunity.
303: Thank you. And good luck with Bern.
RJ: Thank you.
—
PHOTO CREDIT: Sarah Fuqua // Flickr (used with permission)