Three Minutes With (Lockout Edition): Mitch Korn…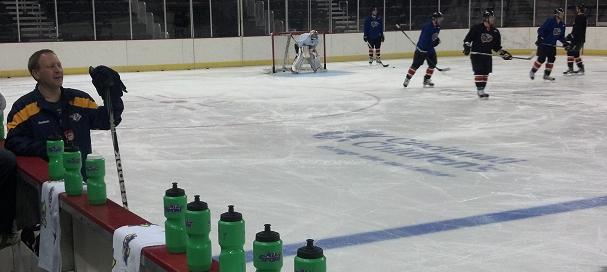 On this day in which we should be huddled up at Brewhouse South to watch the Nashville Predators take on the Detroit Red Wings in the season opener, we're instead in Cincinnati visiting with some of the Nashville prospects who have been assigned to the East Coast Hockey League due to the NHL lockout.
But, in pursuit of tracking down Josh Shalla, Taylor Aronson and Charles-Olivier Roussel, we ran into Predators goaltending coach Mitch Korn. Apparently he's spending the latter part of this week with Nashville's ECHL affiliate, the Cincinnati Cyclones, in order to work with prospect Zoltan Hetenyi.
We caught up with him after practice on Friday afternoon and asked him about the three prospects under his tutelage and whether or not it makes him nervous that his back-to-back Vezina Trophy finalist goaltender is playing overseas.
***
section303.com: During the lockout, you've got goalies with the Milwaukee Admirals and the Cincinnati Cyclones you can still take care of. How do you handle the three goalies in two different locations while not in your home location?
Mitch Korn: Remember, I also have Ben Vanderklok. So, right now, while I'm in Cincinnati, Ben Vanderklok is in Milwaukee. And a week ago, during Admirals training camp, I was in Milwaukee. So, the real issue is going to come in the near future from an economic standpoint. Because every one of these trips require… they're expensive. And as we tighten the belt, the expenses are not welcome. And so that's going to be an issue, trying to get done what we need to get done without spending any money doing it.
303: Are there alternatives to you traveling? Maybe video of the goaltenders?
MK: There will be some video. We've got video capabilities in Milwaukee way more than we have video capabilities here (in Cincinnati).
303: What do you like about Zoltan Hetenyi?
MK: You know, when we saw him on video last year and then brought him over to development camp, I liked the fact that he was a little older. I didn't want to, for a fifth guy, sign a junior — because we had nobody coming (up in the system), so you'd be signing a junior or a college free agent or an undrafted guy. So either, A) they may not be that good or B) you're going to get in a bit of a bidding war (with other teams) for a number five guy, which didn't make a lot of sense. So I thought that bringing in a guy who's a little older, who's got a little experience in the Finnish Elite League, that that would be a good thing.
303: Where do you see Magnus Hellberg fitting in? Obviously, he's slotted in as the back-up in Milwaukee but what do you like about his game?
MK: Our objective with Magnus is, number one, conditioning. It's getting better but not where we want it. Number two, less block and more reactive. He's kind of a blocking goalie and that's been his training so you're not going to change that until you get him (over here to work with you). But the one thing that you can't teach or show him on video to change… he's 6'6″. Being 6'6″ is kind of special. But you've still got to be skilled and stop the puck. It's not only about size. It's about skill number one — and that's the physical skill and mental skill of the goalie — and size number two. Our objective is to find those skills with size.
303: Jeremy Smith, the starter in Milwaukee, was outstanding last year. Should have been an All-Star. Talk a little bit about where he's come since being here in Cincinnati just a couple years ago.
MK: You know that lunar thing that just went to Mars?
303: Yes.
MK: About that far. *laughs* "Smitty" has come a long way. He's grown up, he's matured, he's figured it out, he's become accountable. I'm just so happy for him, the maturity process, and it has translated to success. You know, he came down here when he started (pro hockey) and, with all of the so-called short comings, I will say Smitty's a gamer. He was a gamer down here. He won a Kelly Cup Championship, he was a co-MVP of the playoffs. All because he's a gamer.
303: So he gets sent down and works his way back up. Is he sort of a mentor to other guys who aren't where they want to be?
MK: I don't know if he mentors them other than he's a good example. We talk about those examples within Nashville all the time. We talk about the Dan Ellis example. We talk about the Pekka Rinne example. We talk about the Joel Ward example. There's many of them. I think we've made good hockey decisions and for every player that's done something good you have an example and you use it.
303: I'd be amiss if I didn't at least ask this. Pekka Rinne is now playing in the KHL. As a goalie coach — as your player, period — does that make you nervous that players are going elsewhere and playing?
MK: I mean there's always risk. There's risk jumping in a car and driving across the street. I'm not nervous. I think this (lockout) is eventually going to get resolved and I think those that are playing are going to be better off than those that are not. And I think that's the whole logic by playing.
303: Thank you very much, sir.
MK: You're welcome.
—
PHOTO CREDIT: Jeremy K. Gover // section303.com