Three Minutes With: Milwaukee Admirals starter Magnus Hellberg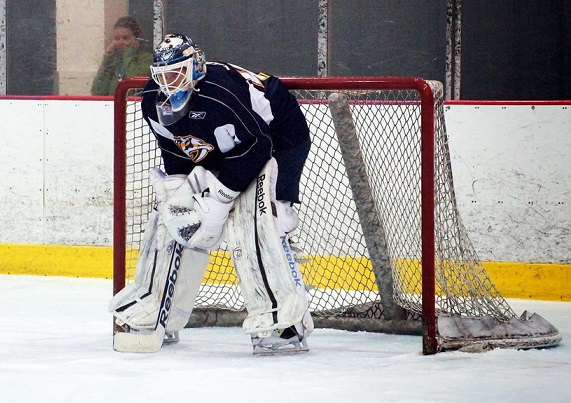 Every year during Development Camp, we pick Nashville Predators prospects, players, coaches and personalities to be a part of our Three Minutes With… interview series. The summer of 2013 is no different and we're bringing you a great lineup this year.
In today's edition, we sit down with Milwaukee Admirals starting netminder Magnus Hellberg. The 2011 second round pick started off the season as Jeremy Smith's back-up at the AHL level but took advantage of a mid-season opportunity to become the man in Milwaukee. Smith hadn't been playing well and then went down with a lower body injury on March 29. As a result, the team looked to Hellberg to lead the way and boy did he ever. Between February 1 through the end of the regular season, the Uppsala, Sweden, native went 18-7-0, posted six shutouts, registered a goals-against average below 1.80 and led his team to a playoff berth on the final day of the campaign. Is Hellberg ready for the back-up job behind two-time Vezina Trophy finalist Pekka Rinne? They at least feel he's ready for the starter role on the farm because the organization decided not to qualify Smith (he has since joined the Columbus Blue Jackets) but did decide to sign minor league journeyman Carter Hutton as an insurance policy. We asked Hellberg about his process once a season ends, his thoughts on the Preds signing another netminder and how good it felt to finally see some consistent playing time.
***
section303.com: Did you follow the playoffs at all or do you like to get away from the game when you're not playing?
Magnus Hellberg: When our season ended, I didn't really want to follow hockey that much. Since you've been around hockey for so long, I think you have to turn it off for a little bit, to get the spark again. So I didn't follow the playoffs. I mean, a little bit just to see what teams made it through. I just hung out with family and friends and I started working out when I got back home. I felt like I was in a good shape and I didn't want to lose anything. It's finally good to be back in Nashville though, for sure. I'm going to stay here for two extra weeks, work out with (Strength and Conditioning Coach) David Good and work on my game. Then I'll spend the entire month of August in Sweden, I think, before I head back to training camp.
303: You were the back-up in Frolunda before coming over to North America last summer. Then, you get here and you're the back-up in Milwaukee. But then you get your shot and you just take off. What was it like to actually get consistent playing time after being a back-up for almost two years?
MH: You know, when you play, you don't think as much. You just keep going. You love stepping on the ice, playing and making a difference. It's when you don't play, the thoughts are coming. You have to be mentally tough and you need to work harder when you don't play. In a way I think it was good that I started off as the back-up to try and get into (the North American game) so I could work on my game and not stress. But then I got some games and I got more comfortable. And then, as you said, it just took off. I didn't think much about it. I just love being in net and contributing to the team. Once you play, it's awesome for sure.
303: The Preds went out and signed Carter Hutton a week or so ago. Do you think you're ready to come into training camp and challenge him for the back-up role behind Pekka?
SJ: Yeah, of course. He's a great goalie, I played against him last season and I heard he's a great guy too. I can just focus on the stuff that I can focus on though. I'm going to try and play my best game and then it's up to the coaches to decide what they want to do. But, I mean, I have no trouble going to Milwaukee and play games there if that's what it takes to play (in the NHL). But, of course I want to come to Nashville. I love it here. But I'm just going to focus on the stuff that I can do and the other stuff will come along.
303: Thanks. Really appreciate it.
MH: Thanks. Good seeing you again.
—
PHOTO CREDIT: Sarah Fuqua (used with permission)