Three Minutes With: defensive prospect Anthony Bitetto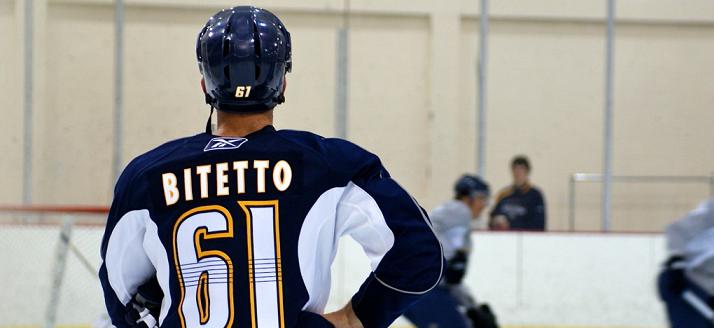 Every year during Development Camp, we pick Nashville Predators prospects, players, coaches and personalities to be a part of our Three Minutes With… interview series. The summer of 2013 is no different and we're bringing you a great lineup this year.
In today's edition, we sit down with Milwaukee Admirals defenseman Anthony Bitetto. Nashville's sixth round pick in 2010, Bitetto left Northeastern University after his sophomore season last summer to turn pro. Due to the lockout, however, he split time between the Admirals and the ECHL's Cincinnati Cyclones. We asked the 23-year old Island Park, New York, native what it was like to play for both teams, whether he regretted leaving college early and being a veteran at development camp.
***
section303.com: What was that first year of pro hockey like for you? What did you take away from the overall experience?
Anthony Bitetto: The biggest thing was coming to the rink everyday and being a pro. That was definitely the biggest thing I had to learn. The beginning was rough. You know, you get sent down, you get frustrated, you're trying to work out "why?!" But then you kind of grab everything for what it is and you try to get better down there. Then the lockout ended, I went back up and Coach (Dean Evason) pulled me aside and said "Hey, you're going to be player. Make sure you're coming ready to the rink everyday." He helped me along and I think that's where I learned how to become a pro. It's something that doesn't happen overnight. You got to work at it and work at it. And I'm still working at it.
303: You left Northeastern early. Any regrets in hindsight, given that the lockout occurred?
AB: No, no. No regrets with that. You can't have any regrets in life, no matter what aspect it is. Leaving Northeastern, with (Coach Jim) Madigan, we weren't on good terms and I thought I was ready to leave and unfortunately the lockout happened but, something like that, you can't really plan for. But, like I said, you've got to take every day for what it is and you've got to keep learning something new every day.
303: There's not going to be a lockout this year so —
AB: Thank God. *laughs*
303: *laughs* How do you keep from feeling entitled to a spot in Milwaukee?
AB: I mean, when you come into camp in September, it's fair game. You want to make the team. And I'm sure that's everybody's goal, you want to make the team. You know, from there, if you make the team, all well. But, if you don't and you are in Milwaukee, it's not the end of the world. You've got to keep pushing and, next year — or during the year — you make sure you're on that team. I think that's where I kind of stand now. If I'm in Milwaukee, I want to be the best player in Milwaukee. I'm sure that's everybody's goal but… I've just got to get there.
303: What do you get out of this camp now that you've been here a couple times?
AB: Now, being an older guy, you kind of look at where you were at a younger kid coming in and, having been in Milwaukee last year and the pro atmosphere, you get it now. You understand. It's hard to explain but you have that feeling of how to be a pro and, like I said, one step at a time will get you there.
303: Thanks.
AB: No problem.
—
PHOTO CREDIT: Sarah Fuqua (used with permission)