Three Minutes With (Preds prospect edition): Taylor Beck…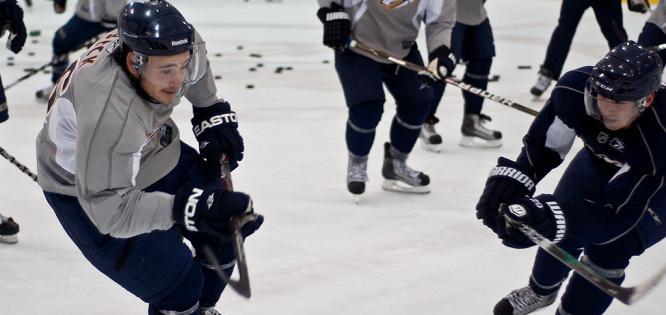 Taylor Beck was one of three — count 'em three — Nashville Predators prospects to finish in the top 10 in OHL scoring last year. But he almost didn't get a chance to join his teammate Michael Latta and Windsor captain Ryan Ellis in the feat. Head Coach Barry Trotz said the 2009 third round pick almost earned an NHL roster spot during last year's training camp. Now that he's finished up his junior eligibility and had a cup of coffee with the Milwaukee Admirals, could that roster spot be waiting for him this year?
Beck took some time out during the Predators' Rookie Development Camp to talk with section303.com about leaving his Guelph Storm junior team for the final time, the transition to the pro game during the Admirals' playoff run and his realistic expectations for the 2011-12 season.
section303.com: Talk a little bit about playing that last game in Guelph. Obviously nobody likes to lose but knowing that the game you had just played in was your last game of Canadian Major Junior.
Taylor Beck: Yeah it was definitely a sad day. I mean, when we got into the room after the loss, I had been there since day one. (All) four years of my junior career and I was (taken in the) first round so it was a little bit upsetting. I wanted to go a little further in my last year but, on the other side, I got to go to Milwaukee and have a great experience there.
303: What was that transition like for you? From junior to the AHL level?
TB: It was a new experience. It was a whole lot faster. You had to make quicker puck decisions and there were bigger, stronger guys down low. And it took a few games to get used to it but once I got the experience and got my confidence back I started to make plays.
303: Does it make the transition easier knowing you have your junior teammate Latta coming with you every step of the way?
TB: Oh yeah, for sure! "Lat's" has been along with me through all training camps and when we got to go to Milwaukee we were equally excited and we took the plane ride together. It's… just great to have him here, that's for sure.
303: Lastly, what are your expectations this year? I mean, obviously the road to Nashville goes through Milwaukee, you've heard that 100 times. But what are your personal expectations? Do you expect to crack the NHL lineup this year or are you looking at more of a "let me develop my pro game" with the Admirals first?
TB: Yeah, I think I uh… I think I was pretty close last year and if I come here and hopefully do the exact same thing and play the way I'm capable of, play the big, power forward game they need me to play, then hopefully I'll get that chance off the start. But if not, there are worst-case scenarios I can work just as hard until I get my chance up here.
303: Thanks.
TB: No problem.
—
HEADLINE PHOTO CREDIT: Paul Nicholson // special to section303.com (used with permission)
INSET PHOTO CREDIT:  The Guelph Storm  (used with permission)