Three Minutes With (Preds prospects edition): Anthony Bitetto…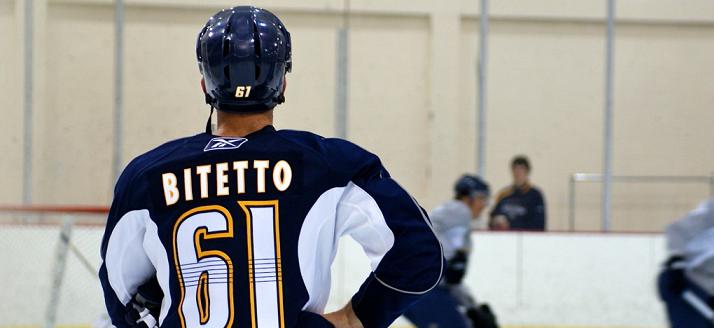 When Indiana Ice defenseman Anthony Bitetto's name was called by the Nashville Predators in the sixth round of the 2010 NHL Draft, he wasn't in the building. Matter of fact, he wasn't even watching on TV. He was at home watching a soccer game when the phone rang. Since that time, he's left Indiana, joined Northeastern University, been named Hockey East Rookie of the Week and was the second highest scoring defenseman among freshmen in Hockey East. So while you know the names of other blueline prospects such as Ryan Ellis, Mattias Ekholm, Roman Josi and Teemu Laakso, you might as well start familiarizing yourself with the name Anthony Bitetto.
And what better way to start than to follow him on Twitter (@ABitetto7) and with this one-on-one interview brought to you by yours truly? We sat down with Bitetto during Rookie Development Camp and he told us all about the journey since being drafted, which coaches helped steer him towards this point in his career and what role the United States Hockey League played in his development.
section303.com: Since being drafted by the Preds last summer, what's this season been like for you?
Anthony Bitetto: Yeah, I mean, after I was drafted I was like "You know, that's not the end of it. There's a lot more work that needs to be done." I think if you do the right thing everyday that just progresses you toward the main goal and that's obviously to play in the NHL. I think I've definitely moved up in play so that's what's been going on.
303: What's it like being a part of an organization that just pumps out quality defenseman after quality defenseman?
AB: It's definitely an honor. Especially if they have that title, and they do have that title. Being a defenseman I appreciate that. It's definitely nice.
303: Talk a little bit about your first year at Northeastern last year and then of course the coaching change in the off-season.
AB: Yeah least year was a blast. My first year at college was a lot of fun. And on the ice I thought we had a very slow start. I thought "Oh this is going to be a long year. A rough year." And we turned it around. (Head Coach Greg Cronin)…. I cannot knock that guy. I love "Crow" a lot. He was a great coach. I learned a lot from him. But seeing him leave… I'm telling you, it was tough. It's definitely not what I wanted to see but hopefully we'll get someone in there who wants to win just like he did. And with his experience and stuff so we'll see.
303: What are you goals long term? Are you planning on being there just one more year and then turn pro? Do you want to exhaust your NCAA eligibility? Are you even thinking about that right now?
AB: I'm taking it day-by-day. *laughs* But no, I mean, I think when the time's right and I feel like I'm ready to make an impact on a team that's higher up in level I think we'll go from there. But, as of right now, I'm just taking it day-by-day and I'm just going to keep progressing.
303: How important was the USHL to your development?
AB: Huge. I played in the EJ (Empire Junior Hockey League) at Apple Core and I can only learn so much there. My coach Chris Cosentino at the time, he made the idea, "Hey, I'll trade you. You need to move on." So I moved onto Indy. Jeff Blashill won Coach of the Year and I think he made the difference. He helped me move through everything. And that league… that league's a great league. There's plenty of guys who come out of there and play pro, so on and so fourth, but that's a great league and I think that step, from USHL to college, wasn't as big as it would've been had I have come from Apple Core. So I think going out there was a tremendous help.
303: Thank you.
AB: Sure.
—
PHOTO CREDIT: Sarah Fuqua // special to section303.com (used with permission)