2011 Skate of the Union taking place in Nashville tonight…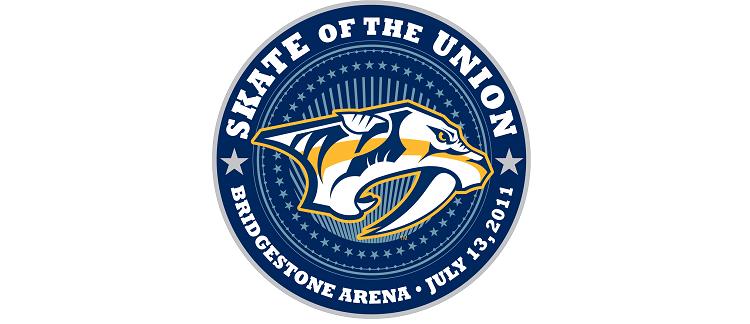 The Nashville Predators have a lot of fun and interesting things planned for today's Skate of the Union event. There's player autograph tables, blast from the past appearances, a battle of the bands exhibition and the annual town hall style Q & A session with General Manager David Poile and Head Coach Barry Trotz, among others. They're even going to debut the new home jersey tonight.
But lost in all of that is one question: will the Preds announce the signing of captain Shea Weber?
His arbitration date is August 2, which means Nashville has up until that date to work out a deal before they hear what the judge says he's worth on the open market (which could be a ton). So why would fans think there may be an announcement made tonight?
Oh, I don't know. Maybe because of this little moment at last year's Skate of the Union:

While it would certainly be welcome, in all likelihood, there will be no announcement of a new Weber contract today. The "big announcement" planned for tonight is the new home jersey, which will receive lots and lots of attention in the blogosphere. They better hope it's a good looking sweater. Because, if it's not, the crowd will let them know it. And, considering the Major League Baseball All-Star Game is over and the NFL is still in a lockout, the United States Women's World Cup team will be the only thing in the headlines. So, if the new home jersey is a flop, it's going to be lambasted on an otherwise slow news day.
Either way, come out and join us at all the festivities! If you're a season ticket holder, you get early access to the equipment sale starting at 11:30am. If you can't make it out that early you can take your kids on the locker room tour at 4:00pm and then head up to the concourse at 4:30pm where current Preds Blake Geoffrion and Ryan Suter along with former Preds Scott Walker and Stu Grimson will be signing autographs.
We'll see you there for the main attraction though: the actual Skate of the Union address at 6:00pm. Should be a good time, just as it is every year.
—
VIDEO COURTESY OF: PredsOnTheGlass.com