Three Minutes With (Preds prospects edition): Michael Latta…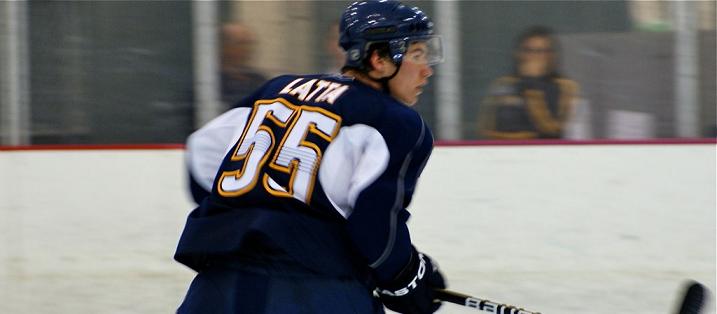 When he was drafted in the third round of the 2009 NHL Entry Draft, Michael Latta was taken just two picks after his Guelph Storm teammate Taylor Beck. Latta and Beck have been blue chip prospects in the Nashville Predators' system ever since and the 2011-12 season will be the first year they'll play full-time at the professional level. Latta, during this summer's Rookie Development Camp, sat down with section303.com to talk about going on this journey with Beck, his final days in Guelph and the differences between the pro level and the junior level.
section303.com: Obviously nobody likes to lose but what was the emotion like for you when the final horn sounded in your last junior game up there in Guelph? Knowing you're next hockey game would be at the professional level, what was that like?
Michael Latta: The last game there… that was one of the saddest days of my life. I'm happy to be moving on but I spent two and a half years in Guelph so, you know, the friendships I made there with the coaches, the players, my family, my billots, it was a sad time. But, you know, overall it was a tough year. We changed our coach halfway through but personally I had a fine year. I kept pushing through as a 20-year old player. It's a lot easier than for a 16-year old player when all those changes are going on. You know, for me and (Taylor) Beck we knew it was our last year and we wanted to have a good crack at it but we lost in the first round of the playoffs to a good Saginaw team. Overall, though, it was a fun year and a great year for me.
303: Does it make the transition any easier to know that you're making the jump from junior to the pro game with Taylor?
ML: Yeah, absolutely. I feel bad for a lot of these guys coming into camp and not knowing anyone. For me, I had Beck, I had (Ryan) Ellis, two guys I was pretty comfortable with. I can't imagine how some of these guys from Sweden and Finland and all of them coming over here and not knowing anyone and not speaking the language all that well. Kudos to them because that's got to be tough.
303: This is your third Development Camp. What is your mindset coming in knowing you've been here, done that before?
ML: Just prepare, you know? All these (new) guys are joking like "Oh, I thought this was supposed to be fun." and stuff like that but it's a hard week. There's no if's, and's or but's about it. We come here and we work hard. Don't get me wrong, we have fun too but it's a hard week. It's a grueling week. A lot of your time is taken up. You don't get much time off. Having camp like this shows you and prepares you for what pro life is all about.
303: Finally, the short stint in Milwaukee. What was that like? Playing in your first pro game?
ML: I love that hockey. Playoff hockey is my favorite. It's the best time of the year and I'm willing to do whatever it takes. Playing for "Herbie" (Ian Herbers) and Coach (Lane) Lambert was really good for my development, I found. You know, learning little things like how to play systems and all that stuff was huge I thought. And, for me, transitioning my speed to the game… the first few games I had trouble with but adjusting to the pace of the puck was a lot different. Skating was a lot better but the puck moves so much quicker up there and you have to adapt or you don't play.
303: Because of your playoff series in Guelph, you didn't get to the AHL until late. What were you able to learn in that short, brief window in Milwaukee?
ML: Just how fast the puck moves. That was the biggest thing. The time with the puck. You know, in juniors you can probably go end-to-end a few times a game. The window to do that here (at the professional level) is probably once a year. So that's probably the biggest thing.
303: Thank you.
ML: No problem.
—
PHOTO CREDIT: Sarah Fuqua // special to section303.com (used with permission)