Three Minutes With (Preds prospects edition): Ryan Ellis…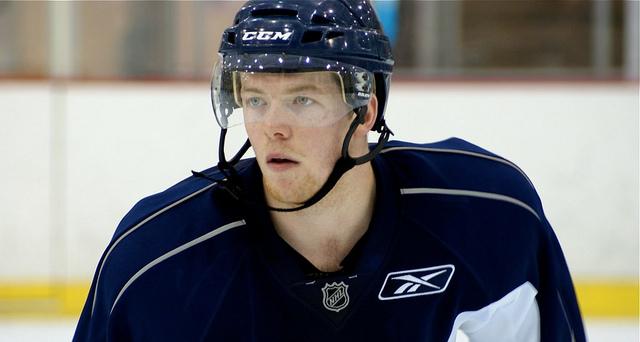 You can't find a more decorated junior player than Ryan Ellis. The back-to-back Memorial Cup Champion was forced back to his Windsor Spitfires team due to age restrictions at the professional level and was immediately named team captain. Then, come December, he was named captain of Team Canada for the World Junior Championships. Then he won a bunch of awards but we'd be here all day if we started listing those.
In short, Ellis was a man among boys at Nashville Predators Rookie Development Camp this summer. And that man among boys took some time out with section303.com to discuss his final year with Windsor, his transition to the Milwaukee Admirals and even his former teammate (and Boston Bruins second round draft pick) Alexander Khokhlachev.
section303.com: Talk a little bit about your swan song with Windsor. You guys had a great season, you won two rounds in the playoffs. Obviously your awards and accolades speak for themselves but, for you personally, what was it like to go through that season for the last time knowing it was the last time?
Ryan Ellis: It was very exciting. You don't kinda realize that it's the last time until way after. It was a lot of fun. Especially with that group of guys. I think we were so used to winning all the time there so to actually have to work for your wins and for your success, it was a lot different but it brought a lot of good things out of us.
303: Speaking of that, you've played with Taylor Hall, Justin Shugg and Cam Fowler, etc. You guys didn't have those powerhouse skilled guys this year. It was a different make up. You guys had to win games in a different way. Talk a little bit about the difference between those years there.
RE: Yeah, I think those first few years we knew we were so good that half our team could show up and we could win the game. But this past year we had a lot of young kids and a lot of new additions to our team, some Europeans that came over and it took a full team effort. If one guy didn't show up there was a chance we weren't winning that game. And sometimes even if everyone showed up it wasn't enough. I think night in and night out you had to bring your A-game.
303: How did that shape your leadership? I mean, you were the captain of that team.
RE: Yeah I think it was good for me to see what it took to win. When I was part of the good teams, at times we had to step our game up but, for the most part, it was kind of just cruise control all the time. This past year, it was all or nothing. We had to give everything we had or we weren't going to win the game. I think that's a lot to expect out of 16 and 17 year old kids but we had a lot of success and they obviously brought their game.
303: And I guess you did have Khokhlachev up front so…
RE: Yeah, he's not your typical Russian player. You kind of think of Russian's as super skilled and what not but he works hard, he hits — he started to hit a lot more near the end of the year — and he realized what kind of game North American hockey is and he adapted very well. So not only does he have all that skill that comes with a lot of Russian players but he works hard. He does all the little things that make a player from North America successful. He eventually adapted to that and he's just a great talent.
303: Talk a little bit about the first game of your pro career. Putting on that jersey for the first time, taking the ice for the first time and playing at the pro level for the first time.
RE: Yeah it was very exciting. I'm not used to that…. we're used to sold out barns up north and it was a different atmosphere but the fans were great there and it was a lot of fun. I think it made it easy… I got a point in the first period so that made the transition easy for me. I think I knew, at that point, I was ready to play there.
303: You scored a goal in your second game, I believe. What was that like and do you have the puck and all that stuff?
RE: Yeah, absolutely. They kept the puck for me and I obviously wanted to chip in whenever I could. It takes a few games to see the makeup of a team — and obviously the makeup of the competition — and I thought I adjusted well and the guys made it real easy for me.
303: How different is it to be a seasoned veteran in junior and be the captain of your team and then go into a hockey club where you're one of the young new guys?
RE: Well I think the good thing about that is a lot of the guys on the team are pretty young themselves. And they're guys I've met at previous camps so it wasn't like I was walking into a whole bunch of different guys. I think it was very comfortable for me and it made it a very easy transition. I had a lot of fun.
303: Thank you.
RE: Thanks.
—
PHOTO CREDIT: Sarah Fuqua // special to section303.com (used with permission)