Three Minutes With: Scott Hannan…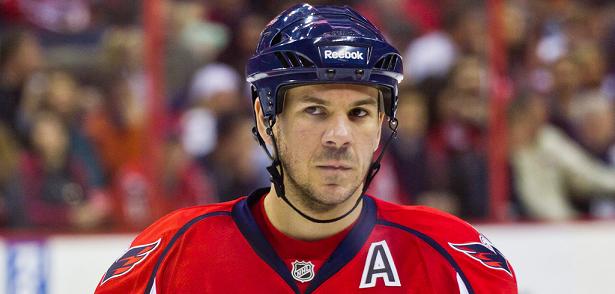 At training camp this week, we sat down with one of the newest Nashville Predators, blueliner Scott Hannan.
A first round pick by the San Jose Sharks in 1997 (23rd overall), the Richmond, British Columbia native has bounced around the NHL as of late. After spending seven years with the team that drafted him, he played three and half seasons with the Colorado Avalanche, closed out the 2010-11 campaign with the Washington Capitals and then skated for the Calgary Flames last year. When he takes the Bridgestone Arena ice tomorrow night, he'll be in his fourth NHL jersey in about two years. But he's not a journeyman. He's a solid stay-at-home defenseman who has been looking for a good fit.
We spent three minutes with him and asked him about those multiple NHL stops, his impression of Nashville thus far and the chemistry with his new defense partner.
***
303: I know it's a short week due to the lockout but can you compare what you've experienced here in Nashville with the other places you've played and their training camps?
Scott Hannan: It's been great. The pace has been really high tempo and they're going over a lot but not overloading us with stuff. It's been a good camp. A great start. I think the practices have been fast paced and guys are getting a lot out of it.
303: Have you been developing any chemistry with Kevin Klein, your defense partner?
Hannan: It's kind of a work in progress. You just kind of go out there, talk about as many situations as you can, and get out there when you're practicing and when you're in those little scrimmages. But it'll develop over time. I mean, he's such a good skater and he sees the ice so well, it's not going to be hard. I kind of read and react off my partner and, you know, he's going to be easy to do that off of.
303: How did you spend the lockout?
Hannan: Basically just preparing. Working out every day, skating when you can. I moved the family down here early. We have two kids and we wanted to make sure the move was easy so, once (the season) got started, we were ready to go. So I was skating with the guys for a few a months. I was here at the beginning of November so we were prepared.
303: You've played in a handful of cities. You've been on teams on the up swing like San Jose, you've been on a Stanley Cup contender like Washington. When you look back, what will you take from each one?
Hannan: I think it's coming to the rink and playing in the different cities with that competitiveness every day. You take away different things from different areas. In Colorado, I got to play with Joe Sakic and Peter Forsberg and Adam Foote. In San Jose, that's where it started. I got to play with some great players there on great teams. We made it pretty far a few times. On Washington, it was short and sweet. It was a great city with great fans. I was only there for a quick in and out but playing with guys like Alex Ovechkin and Nicklas Backstrom, it was great. And Calgary… playing in front of Canadian fans, it's a different experience in many ways. They're passionate and, of course, it was close to home. Vancouver's my home town so it was close for family and everybody got to see a lot of the games. And now I'm here. It's been great so far, living out here for a couple months. The area's just a great place, it seems like, to raise a family. My wife and I have enjoyed it so far. I'm looking to have a long time here and win a lot of hockey games.
303: What impressions did you have of Nashville and the organization before you signed here?
Hannan: You've seen how they've grown over the years, bringing their youth along. Seeing a guy like Shea (Weber) grow. Plus, we played for the same junior team, we worked out and skated in the summer for a long time. And I knew Barry (Trotz) and, in talking to David (Poile), I knew it was a family-like organization. It's a close knit group that's been together for a long time and I've seen them grow.
303: Thank you.
Hannan: Sure.
—
PHOTO CREDIT: Bridget Samuels // Flickr (used with permission)