Three Minutes With: Roman Josi…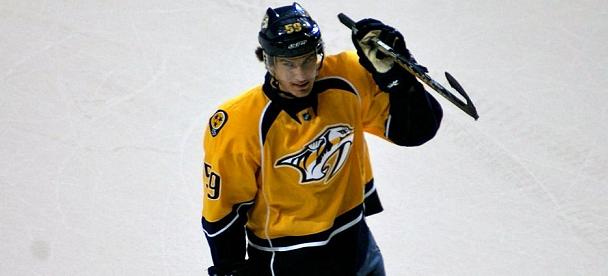 We spent some time with Nashville Predators defenseman Roman Josi at training camp this week. We asked him to spend three minutes with us while we picked his brain about what it was like to play in his hometown of Bern, Switzerland during the lockout, his excitement to be paired with Shea Weber and, of course, the upcoming season in general.
***
303: You got the rare opportunity to play in your hometown of Bern. As a European playing in the NHL, that's a very rare opportunity. What was that experience like for you?
Roman Josi: It was definitely exciting to be back there. I didn't expect, when I left two years ago, to be back that soon. It was a lot of fun to play at home again and be with your friends a little bit longer in the summer, and your family too. So it was a great experience.
303: Obviously, you wanted to be back to the NHL as soon as possible but was it tough to leave your friends and family and teammates over there?
Josi: It's always kind of tough when you leave. It's the same thing every year in the summer, when you leave, you're going to miss your family and friends and everything but you're excited for the season to start. You get over here, you get a couple days of work in, and then you're just excited to be here.
303: Speaking of Switzerland, you played with New York Islanders forward John Tavares over there. What was it like playing with him?
Josi: It was great. He was a great guy and, on the ice, the stuff he did sometimes was amazing. He really impressed me. And we were pretty good friends off the ice too so it's too bad we don't play against them this year. But it was great having him in Bern.
303: Do you feel like you have an advantage, having played during the lockout?
Josi: Yeah, I mean, you can't compare practice to games so, for guys that have played a lot of games in Europe or in Milwaukee, they probably have a little bit of an advantage. They're probably more in game shape. But everybody works hard on the team and everybody practices pretty hard so everybody's going to be in good shape. But, like I said, you can't compare practice to games so it might be a little advantage.
303: Does the compact schedule worry you at all?
Josi: No, not really. You've just got to take care of your body, get some rest and get a lot of sleep. I mean, it's fun to play a lot of games. It's more than practicing three days in a row, anyway. It's going to be a lot of fun, it's going to be a grind and there are going to be some ups and downs but you've just got to stick with it.
303: You're going to be paired with Shea Weber. What are your thoughts playing with a back-to-back Norris Trophy finalist?
Josi: Oh, it's great. It's a great opportunity for me. He's one of the best defensemen in the world. I didn't expect, at 22, to play with one of the best defensemen in the world so it's a great opportunity for me. But, you know, I have to play better than last year too. And I'll be playing against better players so I have to step up my game and take some more responsibility.
303: Does the time on ice worry you at all? You know, Shea logs anywhere between 26:00 and 28:00 a game and, obviously, Ryan Suter did as well. Are you concerned with that at all?
Josi: Um… no. During the game you just play, you don't worry about the ice time. I'm the kind of guy where I don't really know, after the game, how much I've played. I just play. When the coach puts you out there, you just go and play and you don't really worry about it. I mean, you're never going to complain when you play a lot so that's always a good sign.
303: Thank you very much.
Josi: No problem.
—
PHOTO CREDIT: Sarah Fuqua // Flickr (used with permission)