Today is Decision Day for Predators; who stays, goes?…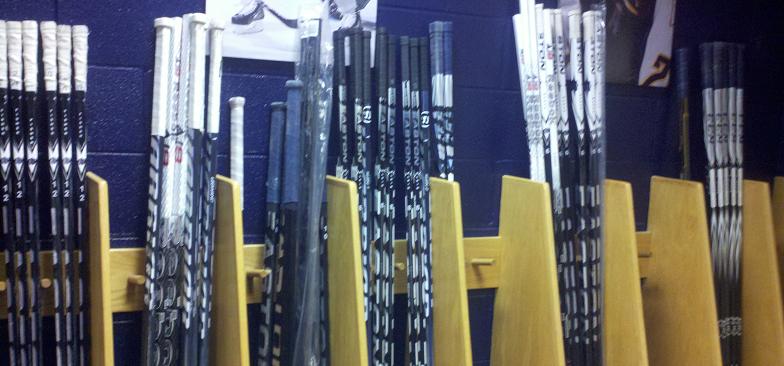 Today is the day.
Today is the day that a handful of guys find out if they've done well enough to start with the Nashville Predators or if they still need to fine tune their skills with the Milwaukee Admirals.
27 players remain on Nashville's roster and Head Coach Barry Trotz said that the guys heading to Milwaukee will be told their fate later today.
"We're going to assign some guys tonight," Trotz said after the game on Saturday. "Then we're going to do something on Monday. Monday will probably give you a good indication of where we're going to start."
Center Chris Mueller, winger Gabriel Bourque and veteran defenseman Tyler Sloan were all assigned to the Admirals on Saturday night. Injured blueliner Roman Josi was also placed on injured reserve and will start in Milwaukee when healthy.
So who stays in Music City? Here are the remaining players that were considered to be "on the bubble" coming into training camp.
—FORWARDS—
BLAKE GEOFFRION
The Brentwood, Tennessee native had quite an impressive NHL debut. In his first 11 games he collected six goals and an assist, including an incredible hat trick on March 20, 2011 that propelled the Predators to victory in a game they had no business being in. He was considered "on the bubble" coming into camp because of one reason and one reason only: he's AHL-eligible. Because he can be sent down to Milwaukee without being exposed to waivers, he is subject to becoming the victim of a numbers game. If Nashville had gone out and acquired a veteran forward (via trade or free agency) Geoffrion could be sent down without risk. Fortunately for Geoffrion, it doesn't appear General Manager David Poile went out and got said forward. Also fortunately for Geoffrion, Trotz raved about him recently, saying "One of the things we lack, when Hornqvist isn't on the ice, is that net presence on the power play. Boomer can provide that. He also gives us a left-handed draw." An injury early in training camp, however, changed things for the 23-year old winger. He only got to see ice time in three pre-season games and, despite scoring three points in those games, he looked out of place at times. He may need to get back to full speed with top minutes in Milwaukee before returning to Nashville. It won't be a popular PR move but it may be best for his production and confidence. OPENING NIGHT PROJECTION: Milwaukee
—
ZACK STORTINI
Stortini was signed as a free agent this summer in hopes of providing some grit and muscle to the lineup. With Shane O'Brien gone, Francis Bouillon a question mark and the late Wade Belak having left us too soon, the Predators have a need for a physical presence. Averaging 143 penalty minutes per season in his NHL career, the former Edmonton Oiler certainly provides that. But, with the talent at the forward position (that seems weird to say, eh?) is there room for Stortini? Some would argue that there isn't. The Predators finally have the ability to roll three lines who can score and a fourth line who can chip in with timely goals as well. The 26-year old Elliot Lake, Ontario native doesn't exactly have a scoring touch and would be used almost exclusively to toughen up the lineup. Furthermore, they can't send him to Milwaukee without exposing him to waivers. If they feel like he'd be claimed by another team, they may hold onto him just so they don't lose him for nothing. All of that begs the question: do the Preds really want to use a valuable roster spot on a guy who will only play four or five games a month? You need toughness in the lineup, that goes without question, but at what cost? Do the Preds send a fourth liner with some decent offensive upside down to the AHL simply to keep Stortini in the fold? That's the question they'll have to answer. OPENING NIGHT PROJECTION: Nashville (as the 13th forward)
—
KYLE WILSON
I'll be very honest. I have no idea what Kyle Wilson is still doing in Nashville. Don't get me wrong, he hasn't been terrible. He hasn't been great either. Matter of fact, he's just been… unnoticeable. In four pre-season games, he scored two points. While stats aren't everything, that's not much of a case to keep him in Music City. The organization really seems to like him though. Not only is that evident by the fact that he's still with the big club but also because Trotz has said so. The former Colgate University teammate of ex-Predator Mark Dekanich, Wilson has proven himself at the AHL level. While with the Hershey Bears from 2007 to 2010, the pivot was nearly a point-per-game producer and never tallied less than 53 points in any one season. Even with the Springfield Falcons last year he scored 24 points in 23 games. But can that offensive flair translate to the NHL? Only time will tell and the Predators scouts believed in his ability enough to convince General Manager David Poile to sign him to a two-year contract this past July. The key to the deal is that this season is a two-way agreement while the 2012-13 campaign is one-way. This suggests the coaching staff may think he fits with their plans next year. OPENING NIGHT PROJECTION: Milwaukee
—
COLIN WILSON
Colin Wilson. A kid with all the talent in the world but with the wrong attitude. Well, at least that was the case last season. He seems to have gotten the message and has been working his tail off in camp. It's proven on almost every stride that he's embracing a new mentality of hard work and, quite frankly, it shows in his pre-season statistics. The former Boston University Terrier led the Predators in scoring with seven points in six games. Plus, evidence shows that the coaches wanted to give Wilson every chance to prove his head's on straight. The only players to see time in six pre-season games were Teemu Laakso, Craig Smith and Mattias Ekholm, all three of which were fighting for a roster spot. The good news is that the 21-year old forward excelled when put in that situation. The situation of playing games that don't mean anything. So that's a very good sign for Wilson, his development, and the potential of the Nashville Predators. Coming into training camp there were thoughts that he'd be traded. After this stellar pre-season showing, however, it's more likely that he goes onto become Nashville's top scorer than getting a one-way ticket out of town. And good for him. Anybody who goes through some tough times and finally "gets it" deserves good things to happen. OPENING NIGHT PROJECTION: Nashville
—
— DEFENSEMEN —
TEEMU LAAKSO
He's paid his dues in the system and, frankly, it's time to see him in Nashville. He exploded offensively in Milwaukee last year with a very uncharacteristic 30 point season. His previous career high, at any level, was 13. The spike in his production came as a result of Jon Blum being called up to the big club. "I got lots of points on the power play. (And) I just felt a lot more confident and I was trying to play some offense as well," Laakso explained. Whatever the reason, it just bolsters his resume as a guy who can play a two-way game, not just a stay-at-home style. He's been called into service for the Preds before and that only helps his cause. The three fellow prospects he's competing with haven't played a single minute of NHL hockey while the Tuusula, Finland native has played in eight games. Beyond that though, he looked the most comfortable out of the prospects in the pre-season. His passes were with conviction. His skating was with purpose. His positioning was text book. Laakso was considered a front runner by Poile this summer and he's proven why. Plus, let's face it, this is an organization who prides itself on promoting from within. If you pay your dues, and do what's asked of you, you'll get a shot to play. Laakso has done that. OPENING NIGHT PROJECTION: Nashville
—
JACK HILLEN
In July, Poile said that the bottom pairing in Music City was going to be "all new kids. New to the NHL." Shortly thereafter, just as a fail-safe, Poile went out and signed free agent blueliners Tyler Sloan of the Washington Capitals and Jack Hillen of the New York Islanders. Both were signed to one-year, two-way deals which gives Nashville some financial flexibility if they don't crack the NHL lineup. While Sloan has cleared waivers and been assigned to Milwaukee, Hillen has impressed. Sure he only scored one goal in his five pre-season games but, like Laakso, he's looked completely comfortable out on the ice with his new team. Obviously the 175 games of NHL experience would have something to do with that but his steady presence can't be denied. He's proven he can pitch in 20 points a season at the NHL level and, for the bottom pairing, that would be very welcome. Also, the 25-year old Minnetonka, Minnesota native could easily step up and take the place of an injured Preds defenseman if necessary. While the younger guys, who have never played a single second in the best league in the world, might be able to step up, there will be doubt in their ability to. And, if you're the coaching staff, why voluntarily walk into that scenario when you've got a steady defenseman like Hillen at your disposal? FUN FACT: When Hillen starts on opening night, he'll be the only Nashville rearguard not  to have been drafted by the Predators. OPENING NIGHT PROJECTION: Nashville
—
MATTIAS EKHOLM
Where to start with Ekholm? He's played in the world's second best league (the Swedish Elite League) and posted such incredible numbers (33 points in 55 games) as a rookie that he was named Elitserien Rookie of the Year. The 21-year old Borlänge, Sweden native came into camp considered closer to "NHL ready" status than both Ryan Ellis and Roman Josi. He was one of the three "men among boys" at this summer's Rookie Development Camp and, as with Ellis, he can provide the Predators with some much needed offense. During the pre-season, he only managed a single point (an assist) but looked consistently solid. Having never played hockey on this side of the pond before, Ekholm may require several weeks playing on the smaller ice surface before realizing his full potential. But there's a problem with that. He has a clause in his contract that says he can return to Sweden if he doesn't make the big club. So the Predators have a major decision to make. Do they put Ekholm in Milwaukee to learn the North American game? And, if so, does he even accept his demotion or does he choose to return to his Brynas HC club? Or, knowing his "out," do they keep him in Nashville and bring him along slowly? But, if they do that, is he really maximizing his development by sitting out every other game and seeing limited ice time? Of all the decisions the Predators brass have to make today, Ekholm's situation is by far the toughest. OPENING NIGHT PROJECTION: Sweden (hopefully we're wrong)
—
RYAN ELLIS
It's been said time and time again: Ryan Ellis is an emerging national treasure. The most decorated defenseman in Canadian Major Junior history, Ellis has racked up so many awards and accolades that, when he buys his first home, he'll need a separate bedroom to store them all. In the pre-season he looked a little lost at times but that's to be expected seeing as how this was his first full NHL pre-season action. He managed only one point (an assist) but he was a plus-3 and played solid power play minutes. He may have forced his name back into the opening night roster conversation, however, with his performance in the final pre-season contest. Before the game, Trotz said "There are some guys that will play tonight where it's their last kick at the can." Then, after Ellis's impressive performance, Trotz used his post-game press conference to utter the words "We've had a change of plans on a couple guys." A few minutes later he said "That was (Ellis') best game by a country mile." Did the Freelton, Ontario native play himself back into the opening night roster discussion? Whether he did or not, it's probably best for the former Windsor Spitfire to season himself with the Admirals of the AHL. That way, not only can he find the confidence he needs to succeed but he can prove that his 5'10", 185 pound frame can withstand the bigger, tougher, faster professional forwards. OPENING NIGHT PROJECTION: Milwaukee
—
HEADLINE PHOTO CREDIT: Jeremy K. Gover // section303.com
JERSEY GRAPHIC: courtesy of shop.nhl.com