Top 5 Preds who need to prove themselves in the post season…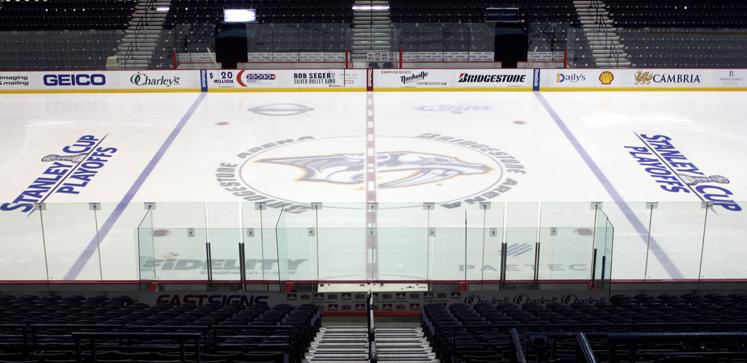 5. SERGEI KOSTITSYN
He was the surprise of the 2010-11 Nashville Predators season. Kostitsyn was acquired last summer by General Manager David Poile in exchange for the rights of upcoming free agents Dan Ellis and Dustin Boyd. Two players that weren't going to be re-signed anyway. According to all accounts coming out of Montreal, the Habs couldn't wait to get rid of him. All Kostitsyn did (for a mere $550,000, by the way) was lead the team in goals (23), tie for the team lead in scoring with 50 points, finish the season with an incredible 11-game scoring streak and set new career highs in nearly every major offensive category.
So what does he have to prove?
He has to prove that he can continue that kind of production in the post season. SK74 collected 15 points in the last 12 games of the regular season but he only had one in the 10 games before that. Which Kostitsyn will show up in the playoffs? Was the last game of the season an anomole? Or was it the start of yet another down swing in his offensive production? The Predators absolutely need him to produce as he's one of the guys they rely on for scoring. Especially since only 13 of his 50 points came on the power play. Nashville has outscored the Ducks at even strength this season and they'll likely need to do it again in order to get out of the first round for the first time in franchise history. Kostitsyn needs to be the guy that leads that charge.
4. JOEL WARD
Predators fans may remember Chicago's overtime winning goal in Game 5 last year. Just maybe. Anyway, on that goal, Marian Hossa jumped out of the penalty box, raced down the ice and planted himself just to the left of the crease. Hossa, who scored the goal, was Ward's man. Ward failed to lay a body on him, tie up his stick or just flat out clear him out of the area. As a result, Hossa cleanly one-timed a shot past Pekka Rinne for the winning goal that gave the eventual champs a 3-2 series lead.
Aside from needing to make ammends for last year, Ward has struggled at times this year. So while he had an incredible month of March where he posted eight points, when the Preds were still trying to get into the post season dance in April, Ward didn't find the scoresheet in any capacity and even finished the month with a minus-2. Not exactly clutch play.
All that being said, Ward did chip in with huge goals this season. Half of his 10 scores came on the power play and four of them proved to be game-winners. He even had a short-handed assist.
Ward isn't the first player that comes to mind when you think "who's going to score goals for this team?" but he is the kind of guy who comes to mind when you think "who works the hardest?" So while Ward doesn't necessarily need to show up in the box score, he does need to do all the little things that are expected of him so his teammates can benefit.
3. PATRIC HORNQVIST
His only NHL playoff experience came in the first and last games of the post season last year and he was hardly a factor. While it came out later that he was hurt, he still wasn't the factor that he needed to be for the Predators to be successful. With his lack of experience, it's a real wild card as to how he'll perform in clutch situations like the everyone-takes-it-up-a-notch playoffs.
Hornqvist could not rekindle his 30-goal season a year ago but, many would argue, he played a better all-around game this season. His balanced 21 goals and 27 assists certainly suggest he added an element to his game in the past seven months and, quite frankly, that makes him more dangerous against the Ducks. And he's hot at the right time. He's got seven points in his last four games and he's got 14 points since March 19.
"Horn Dog" got the big raise after his breakout year last season and now it's time earn that paycheck when it matters most.
2. MARTIN ERAT
Do we really need to explain why here? Okay fine. But only one last time!
With a one goal lead and a 3-2 series lead a mere 1:00 away, Erat was the Predator in the corner of the Blackhawks zone in the waining moments of Game 5 last April. Instead of tying the puck up along the boards to kill precious seconds off the clock (like you'd do on any penalty kill, for example) Erat elected to throw a blind backhand pass toward the slot. Naturally — because everyone was supporting him along the wall so they could tie up the puck if it came to them — nobody was home and the Blackhawks raced down the ice and scored the tying goal. They would eventually go on to win the game, giving them the 3-2 series lead instead of the Predators going back into their building with the chance to advance for the first time ever. Among the fanbase, Erat has never lived that down.
So, more than any other Nashville Predator player, Erat has something to prove. He must show that he has learned from his mistakes and can now make better decisions throughout the game, not just in the final minutes with a critical lead. He can go out and score five goals a game, but if his poor decision making leads to another playoff exit, it could get ugly in Music City.
1. BARRY TROTZ
He's a great coach. A guy who constantly gets a lot out of his team. Matter of fact, he's the only head coach this franchise has ever known. But, because this franchise has never gotten out of the first round of the playoffs, that means he has to own that distinction too. So for all the amazing things he does in the regular season, he's been less than stellar in the post season.
Take the 2006 first round match-up against the San Jose Sharks for example. The Sharks dominated the face-off dot all series long but Trotz elected to bench their best face-off man Yanic Perreault in favor of forwards who maybe had a little more defensive upside. Last year, the Preds went and acquired offensive-minded defenseman Denis Grebeshkov at the trade deadline. He was hurt during the last part of the regular season but, in the four games he did play in a Preds sweater, he tallied two points. The playoffs came around and Chicago's offense was intense yet Trotz opted to keep Grebeshkov out of the lineup until the final two games of the series.
The point is, the knock against Trotz has long been the idea that he can't make adjustments mid-game. He can gameplan with the best of them but, once the puck drops, he can be out-coached in a heartbeat. And, whether you believe that or not, the stats don't lie: he has never won an NHL playoff round.
So, more than anybody else in the Nashville Predators organization, it's Head Coach Barry Trotz who has the most to prove. He absolutely must get his team past the first round because, let's face it, this ownership group wants a winner. They've proved that by green-lighting Poile to go out and get Mike Fisher. They've talked about bringing a Stanley Cup to Nashville for a while. They've sold the idea that this is a hockey market to the fanbase. Now it's time for Trotz to deliver.
We don't want to hear "the sale of the franchise caused a lot of drama" like in 2007. We don't want to hear "we were riddled with injuries" like in 2008. We don't want to hear "well, if Marty doesn't turn that puck over" like in 2010. We want a first round playoff victory. Period.
And, until he's no longer behind the bench, Trotz has to deliver.
—
PHOTO CREDIT: Jay Levin // Nashville Predators