VIDEO: Carter Hutton makes an unreal glove save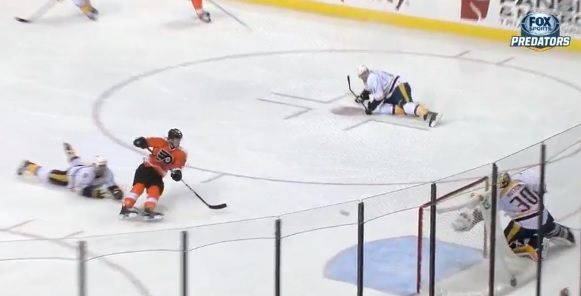 If newly acquired Devan Dubnyk is, in fact, going to be the Nashville Predators' new starting goalie beginning Saturday night, Carter Hutton is going out with a bang.
During the second period of Thursday night's shootout win over the Philadelphia Flyers, Hutton was caught out of position but still managed to scramble and make an unbelievable save on Michael Raffl.
The save made #1 on SportsCenter's Top 10 Plays last night and if ESPN shows a hockey highlight at all, you know it's good. Enjoy.
Side note: notice the ear-to-ear smiles by Paul Gaustad and Mike Fisher when they show the Preds bench.
—
VIDEO COURTESY: NHL.com
PHOTO COURTESY: screen cap of video