VIDEO: Kostitsyn quits on Edmonton's eventual second goal…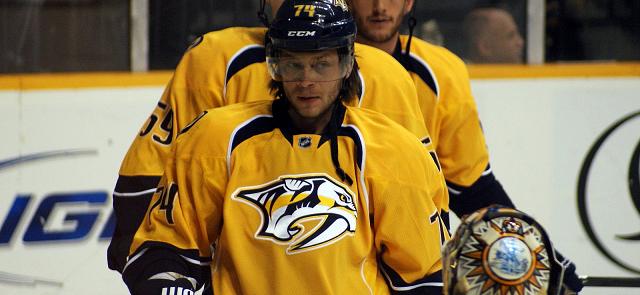 We've seen Jason Arnott lag on the backcheck. We've seen Martin Erat make turnover after turnover inside the attacking zone. We've even seen Niclas Bergfors released for not playing defense.
But we've never seen a Nashville Predator quit in the middle of a play.
(Special thanks to SBNation for the video)
Sergei Kostitsyn barely tried to muscle Edmonton Oilers winger Sam Gagner off the puck and, after he was beat but before he couldn't make a difference on the backcheck, he goes to the bench for a line change, letting his man skate in 2-on-1 shorthanded into the Nashville zone. As a result, Lennart Petrell would one-time home Edmonton's second goal. A goal that, for all intents and purposes, should  have been the game-winner (Roman Josi's goal with 0:09 left in regulation gave Jordan Eberle the honor.)
Nashville would go onto lose 3-2.
The fact that many believe Kostitsyn shouldn't even be playing the point on the man advantage only adds to the frustration and emotion of the situation.
Before that turn of events, the Predators had battled back to tie the game at 1-1 on a Shea Weber power play goal in the second period. Rinne had been outstanding and the team was matching the Oilers stride for stride.
Nashville, on the power play inside 10:00 left in regulation, were staring at one point, at a minimum. A point they needed given the performances in their last two contests. Instead, they lost their third straight game and failed to secure any points at all.
Kostitsyn was a healthy scratch against the Calgary Flames on Friday night.
—
PHOTO CREDIT: Sarah Fuqua (used with permission)