First period frosties were on the menu as Preds break Jackets' streak…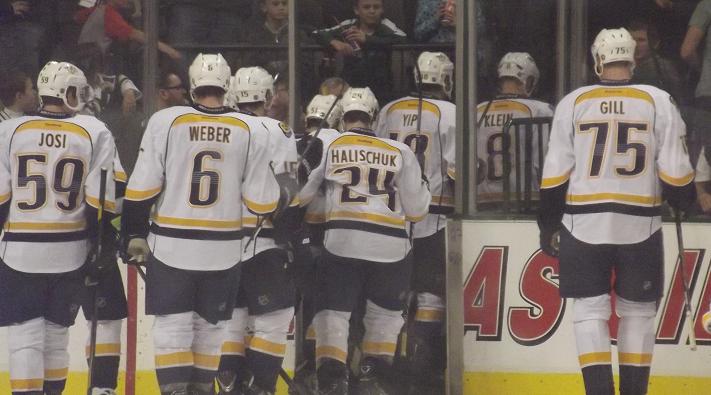 Coming into the night, the Columbus Blue Jackets — yes, those Columbus Blue Jackets — had a 12-game streak in which they had gotten at least one point in the standings. On the opposite end of the spectrum, the Nashville Predators were coming in having not won back-to-back games since February 14.
On the strength of a 21 save performance by Pekka Rinne and five goals, the Preds ended the Jackets' run and hurdled them in the Western Conference standings (by way of regulation and overtime wins). The final score, in front of 17,113 at Bridgestone Arena, was 5-2 in a game that was a lot more lopsided than the score indicated.
In the opening frame, Taylor Beck led the charge, potting his first career NHL goal. The rookie gained the Columbus zone, used Gabriel Bourque as a decoy, and wristed a laser past Sergei Bobrovsky to take the early 1-0 lead.
"I had a bunch of chances last game," Beck said. "But I was fortunate enough to put that one in. It's a monkey off my back for sure."
"He's been working hard," defenseman Kevin Klein said about the 2009 third round pick. "He's been going to the net and doing the little things right."
Captain Shea Weber would follow up Beck's marker with one of his own just 1:10 later. Bobby Butler, between the hashmarks and the end boards, fired a pass back to the opposite point where Weber was cocked and ready. He one-timed a wrist shot past the Columbus netminder to put his club up 2-0.
The Blue Jackets would pull within one when RJ Umberger fell backwards on Rinne and appeared to have interfered with his making the save. It wasn't called on the ice, however, and Umberger was awarded a power play goal.
"They said that the puck was already going in," Nashville Head Coach Barry Trotz said after the game. "I watched the replay and I probably disagree with that. But they were forthright and said that's what they saw and they felt it was a legal goal."
You often hear coaches say that the shift immediately following a goal is the most important one. Well, that cliche proved accurate on this night. A mere 0:17 after the controversial tally, David Legwand skated into the Columbus zone and put a shot past Bobrovsky to make it 3-1, Nashville, basically squashing any hope the Jackets had.
And just in case any hope still remained on the visitors bench, Nashville would add another — and chase Bobrovsky — when Matt Halischuk tallied his second of the year just 0:29 later, giving the Predators four goals in a 3:04 span.
"We got a power play goal because we were moving our feet and had a great play from Butler to Weber," Trotz said. "We ran into penalties but we got a huge kill when it was very important."
Immediately following Halischuk's goal, Rich Clune was given a 5:00 major penalty for interference and a 10:00 game misconduct, putting Columbus on a long power play in which, unlike a minor infraction, they could score as many times as they wanted. Nashville not only killed it off but shutdown the Jackets' extended 5-on-3 opportunity when Mike Fisher was called for goaltender interference while crashing the net shorthanded.
"That's the loudest I've heard the building in a while," Klein said about the sold out crowd's response. "It was electric after we killed that off. It gives the boys that boost. Two minutes is a long time 5-on-3 and we did a great job killing it off."
In the middle frame, the Jackets benefited from a lucky bounce. Artem Anisimov carried the puck around the Predators cage, spun around and put a routine shot towards Rinne. Fisher, defending in front of the net, put his stick down and inadvertently deflected the puck up and over Rinne's blocker to pull Columbus back within two.
But the score was settled. Only a Roman Josi empty net goal in the final minute would be added.
This was the first time the Predators had won back-to-back games since mid-February and, perhaps even more important than the results, they've played solid hockey in back-to-back games as well. A strong sign going forward for a team that needs to play it's best hockey if they want to go to the playoffs for the eighth time in nine seasons.
"We needed to step up as a team and come together," Klein said. "I think the past two games we've done that. We've come out with energy and played a solid 60 minutes. We let off the gas a little once we were up by three goals, which you don't want to do, but we held strong and got the win."
The Predators will remain at home for their next two contests, Monday against the Edmonton Oilers and Thursday against the Phoenix Coyotes. Both teams sit below Nashville in the standings but both are in direct competition with the Predators for a playoff spot in the West. Needless to say, Nashville could do itself a lot of favors by taking the next four points.
Puck drops on Monday night at 7:00pm Central.
***
MY THREE STARS (as voted on with 5:24 remaining in regulation):
1) Taylor Beck (NSH)
2) Gabriel Bourque (NSH)
3) Bobby Butler (NSH)
THE THREE STARS OF THE GAME:
1) Taylor Beck (NSH)
2) Gabriel Bourque (NSH)
3) Bobby Butler (NSH)
—
PHOTO CREDIT: Melissa Grissom (used with permission)