VIDEO: Seth Jones scores his first NHL goal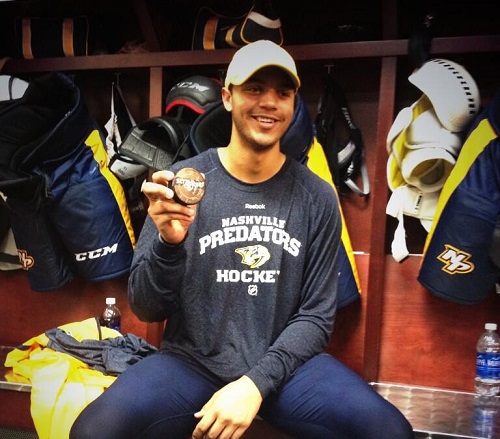 When the Nashville Predators were granted the fourth overall pick in the 2013 NHL Draft, they never imagined they'd get the top player on their board. That top player was defenseman Seth Jones. Low and behold, the Colorado Avalanche, Florida Panthers and Tampa Bay Lightning all opted for forwards and there was Jones, sitting there for the taking when the Predators took the stage.
A mere 105 days later, Jones scored his first career NHL goal.
"It's a monkey off my back," Jones said. "I'm glad that it came this quick. I think last year, at Portland, it took me eight games and that felt like forever. So I'm glad it came a little quicker this year."
The Predators would go onto beat the New York Islanders, 3-2.
Evgeni Nabokov, a goalie who's won 337 NHL games (18th most all-time, 3rd most among active players), posted 69 shutouts (19th all-time, 3rd active), won the Calder Trophy, was a Vezina Trophy finalist and is a two-time All-Star, gave up Jones' first career goal.
Jones hadn't even been born yet when Nabokov was drafted by the San Jose Sharks in the ninth round of the 1994 draft.
—
VIDEO CREDIT: NHL.com
PHOTO CREDIT: Austin Stanley // 102.5 The Game