Want to celebrate Geoffrion's hat trick tonight? Here's how…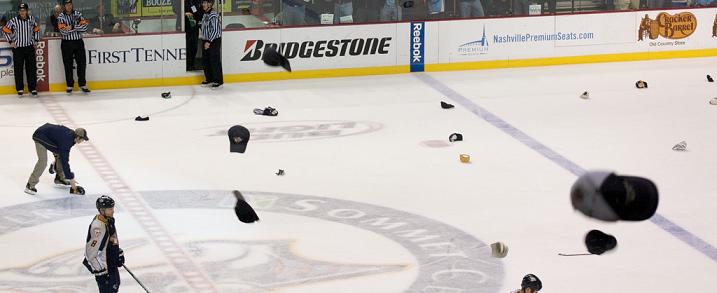 Since Sunday night, Nashville Predators fans everywhere have been looking for an outlet to vent their excitement over rookie Blake Geoffrion's clutch hat trick against the Buffalo Sabres.
Well, you can stop looking.
section303.com has teamed up with the Predators to give the fans an official outlet.
At tonight's game against the Edmonton Oilers, we'll be collecting hats for Geoffrion through the first intermission. We will then be turning them over to the Predators, who will present the pile of hats to Geoffrion himself during Wednesday's practice. The collection and presentation will be recorded and shown in a feature of some kind.
The biggest benefit in celebrating this way? You get to CHOOSE the hat you want to "throw." While you don't usually care while in the moment, you're usually wearing a hat you want to keep when a hat trick is scored. This way, you can choose whatever hat in your collection you want to contribute.
So, in short, there will be bins inside the main entrance doors as well as at the foot of section 303 through the first intermission. Just "throw" your hat in there and we'll do the rest!
—
PHOTO CREDIT: Casey Fleser // special to section303.com (used with permission)