Watch Eric Staal's injury and decide: should NHL players play for their countries?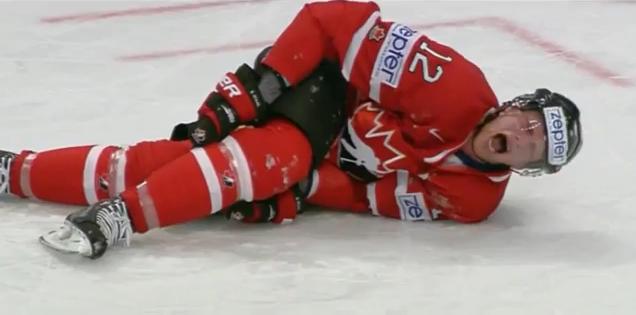 If you missed it yesterday, Canada was playing Sweden in the quarterfinals of the IIHF World Championships in Stockholm. In the first period, Carolina Hurricanes captain Eric Staal was the victim of an ugly knee-on-knee collision by Swedish defenseman Alex Edler of the Vancouver Canucks.
The video of the incident is below.
Whether you think it was a dirty hit is not the question. That's a separate issue. Heck, season-ending injuries happen on clean plays all the time. We've also seen knee-on-knee injuries end a player's career before. Again though, separate issue. In addition, we don't know the severity of the injury just yet. According to Chip Alexander, the Hurricanes have provided no update other than Staal will return to Raleigh for an MRI. But, once again, separate issue.
The real issue is risk vs. reward.
Logic says that injuries like this on the international stage are rare. How many players go play after their NHL season is over and finish the tournament just fine? Nearly all. Plus, it's a huge honor to play for your country. When asked, it's practically instinct to say "yes." And, all things being equal, it should be that way.
But let's face it, if you're an NHL player, your NHL team is paying your salary and, given the caliber of players that are in these tournaments, that salary is usually in the multi-million dollar range. Furthermore, this isn't the NFL, all contracts are guaranteed.
Staal is a four-time NHL All-Star, a Stanley Cup Champion, a seven-time 70+ point scorer and the captain of the Hurricanes. Plus, at 28 years old, he's in the prime of his career. Carolina is depending on him to lead them back to the playoffs for years to come.
Based on the pro's and con's above, we ask you, should NHL players continue to participate in international events?
Before you answer, take one more second and think about Shea Weber. The Nashville Predators have $110 million invested in their captain. He's a two-time Norris Trophy runner-up, he was their scoring leader in 2013 and is one of the best all-around defensemen in the world. What if he were playing for Canada this year and what if it was him that Edler caught with the knee-on-knee? Would you feel the same way?
Let us know which way you lean on this issue in the comments section below. Should NHL players be allowed to play elsewhere? Should they even want to? We'll use the best responses on the next 303:30.
—
PHOTO CREDIT: screen shot of TSN/NBC Sports broadcast