Weber's teammates endorse him for Norris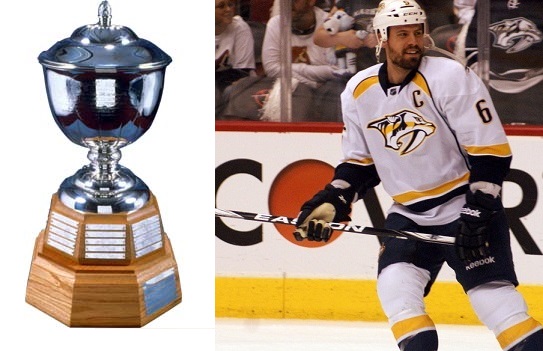 Nashville Predators defenseman Shea Weber has been nominated for the Norris Trophy for the third time in four years. Bob McKenzie of TSN, Mark Spector of Sportsnet and Stephen Whyno of The Canadian Press all had him as the lead on their ballots so we know he has at least three first place votes but Weber's name sits atop other ballots as well.
Just not official ones.
Former Predators Head Coach Barry Trotz has made no secret that Weber's name should be engraved onto the Norris.
"I get to see this guy night-in and night-out," Trotz said with unwavering conviction. "He is the best defenseman in the National Hockey League."
Despite point-producers like Erik Karlsson, P.K. Subban and Duncan Keith winning in recent years, the award's definition states it should go to the league's top "defense player who demonstrates throughout the season the greatest all-round ability in the position".
Emphasis on the words "all-around."
His defense partner, Roman Josi, gets the luxury that most aren't afforded: a front row seat to Weber's excellence.
"For a young guy like me, it's a privilege to play next to a guy like Shea," the 23-year old Swiss blueliner said. "Just by watching him you learn from him. You learn so much. It's been great to play next to him and, for a young guy, there's probably nothing better."
Josi went from a prospect to a full-time, top-pairing NHL defenseman under Weber's tutelage. When Ryan Suter jumped ship in the summer of 2012, the media was quick to anoint a 21-year old Josi as Suter's "replacement." Since then, he was just one of three Preds to play all 48 games of the lockout-shortened 2013 campaign and then, this year, bagged his first 40-point season on the strength of 37 points in his final 58 games. Having Weber alongside him when he struggled early helped quite a bit.
"We've got a great leader in Shea," Josi said. "He's probably the best defenseman in the world and he showed it this year. He's leading the way back there."
Fellow defensemen Ryan Ellis also gets to see him play each and every night but has a different perspective. Ellis isn't his defense partner so he gets to watch from the bench and be a nightly witness to everything Weber means to the team on and off the ice.
"Not only do his numbers speak for themselves but he's a mentor," Ellis said about his captain. "Me, Josi, [Seth] Jones, [Michael] Del Zotto, [Mattias] Ekholm, everyone. We have one of the youngest defense corps in the league and he's our oldest guy. For him to step up and show us the way, we all matured a lot thanks to him."
His numbers do speak for themselves. Weber's 56 points and 33 assists were career highs and his 23 goals led the club going into the final game of the season. He finished third among all defensemen in scoring, fourth among all NHL skaters in average ice time (26:54) and became the first player in nine years to record 20+ goals, 150+ hits (169) and 150+ blocked shots (173) in a single season.
"He had 23 goals and lead our team in points," Ellis said. "He should win it on the numbers alone. And I hope he does. He deserves it."
But, as Josi points out, Weber's game is so much more than numbers. Even if that's what the voters typically look at.
"He's probably the best defensive-defenseman yet puts up 56 points and 23 goals," Josi said. "He deserves the Norris. He's the most complete defenseman there is."
And that, again, is the definition of the award.
---
PHOTO CREDIT: Sarah Fuqua (used with permission)