Shea Weber could win Norris Trophy tonight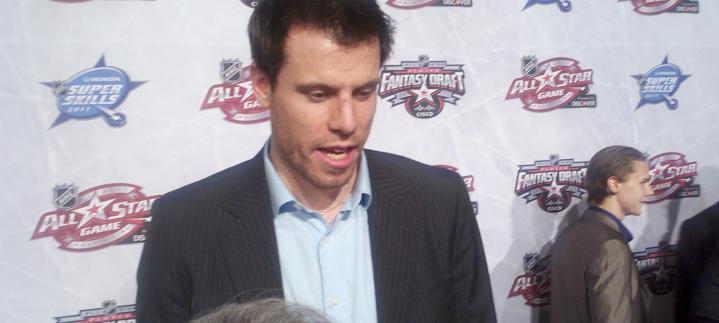 The Nashville Predators will find out whether or not their captain, Shea Weber, wins the Norris Trophy as the league's best defenseman tonight in Las Vegas.
This is Weber's third Norris nomination. He was the runner-up to Detroit's Nicklas Lidstrom in 2011 and then to Ottawa's Erik Karlsson in 2012. It could be argued that Weber should have won the award each of those two seasons. In 2011, it was thought that Lidstrom would be retiring and one has to wonder if sympathy played a part in the voting (Lidstrom did, after all, register a minus-rating for the first time in his career). Then, a season later, Karlsson hoisted the hardware on the Las Vegas stage thanks to his offensive numbers, not his all-around play.
So, since voters want to talk about offensive numbers, let's do that. Nashville's second round pick in 2003 had himself a career year. His 56 points and 33 assists were career highs and, if Craig Smith hadn't found the back of the net twice on the final day of the season, his 23 goals would have led the club. Weber was third among all defensemen in scoring, fourth among all NHL skaters in ice time (avg. 26:54) and became the first player in nine years to record 20+ goals, 150+ hits (169) and 150+ blocked shots (173) in a single season. Additionally, he led all NHL blueliners in power play goals (12) and was one of just three defensemen to lead his team in scoring (Karlsson in Ottawa and Keith Yandle in Phoenix were the others).
Away from the stat sheet, Weber helped transition 23-year old Roman Josi to a full-time, top-pairing NHL defenseman and even partnered with Rinne and the Monroe Carell Jr. Children's Hospital at Vanderbilt to form the 365 Pediatric Cancer Fund.
Boston's Zdeno Chara and Chicago's Duncan Keith are also nominated. Chara won the award in 2009 while Keith got the honor in 2010.
The Awards can be seen tonight on NBC Sports Network.
---
PHOTO CREDIT: Jeremy K. Gover // section303.com