We're celebrating Hockey Fights Cancer night by giving YOU prizes!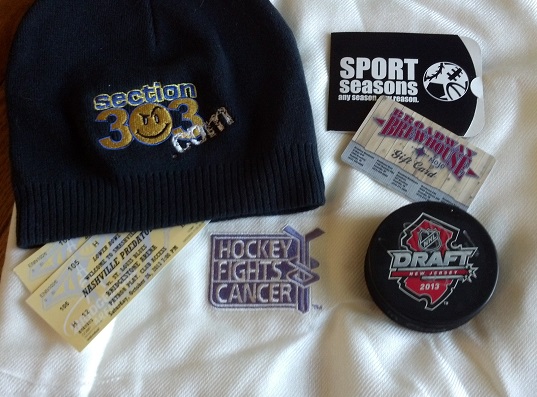 Hockey Fights Cancer is all about helping others. Every year, the National Hockey League does a phenomenal job at helping the cause.
The campaign is as old as the Predators themselves. It started in 1998 when Predators center Matt Cullen's uncle, John Cullen, attempted a comeback after missing the latter part of the 1996-97 season and the entire 1997-98 season due to being diagnosed with Non-Hodgkin lymphoma. John, a two-time Stanley Cup winner with the Pittsburgh Penguins, played just four NHL games in his comeback but he accomplished much more than he ever dreamed. His Tampa Bay Lightning club, along with the league and the NHL Officials Association joined forces to create the Hockey Fights Cancer initiative.
If you need tickets to tonight's game against the St. Louis Blues, all you need to do is leave your name in the comments section below. For an extra entry, click "LIKE" on our Facebook page. We'll select two winners at random for the following prizes:
GRAND PRIZE
* Hockey Fights Cancer scarf
* pair of lower bowl tickets to tonight's Preds vs. St. Louis Blues game
* a 303 toboggan
* a Seth Jones autographed 2013 NHL Draft puck
* a Brewhouse South gift card
2nd PRIZE
* a pair of lower bowl tickets to tonight's Preds vs. St. Louis Blues game
* a Sports Seasons gift card
IMPORTANT: Be sure to have a valid e-mail address listed on your comment below as that's how we will contact you if you win.
WINNER WILL BE CONTACTED BY 5pm CENTRAL!