What an accomplishment! Jr. Preds take home top honors in Canada…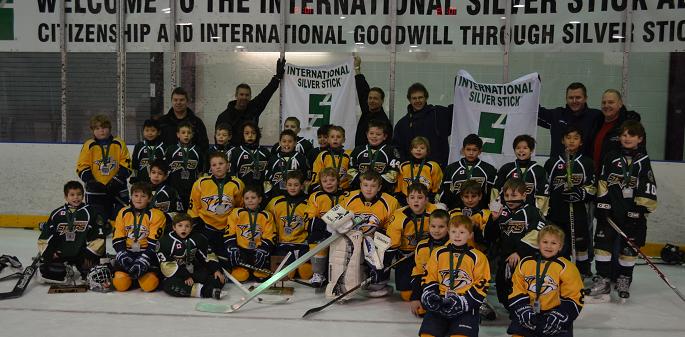 The official press release is below but let us be one of the first to congratulate the Nashville Jr. Predators hockey program for a tremendous accomplishment. There are really no words that would accurately describe what this victory means to the city of Nashville in regards to how it's viewed in the hockey world. So not only is this a win that these kids will always remember but it's also a win for the metropolitan area that they represent.
Sometimes in life things are bigger than even a team. This is one of them. We're tremendously proud of you.
—
Nashville, Tenn. (January 11, 2012) – Local youth hockey players from the Nashville Jr. Predators Mite Major team took North American amateur hockey by storm this past weekend, taking top honors in "A/E" Novice/Mite division at the Silver Stick Finals held in Pelham, Ontario.
The Silver Stick is one of only two tournaments recognized by the Hockey Hall of Fame – the other being the Stanley Cup Playoffs.  Each year, after all Silver Stick tournaments are completed, a plaque is placed in the Hockey Hall of Fame, listing the team names of all the champions for that year.
"Winning their division at Silver Stick was a huge accomplishment, and opened a lot of eyes in the hockey world," Nashville Predators Director of Youth Hockey and Fan Development Andee Boiman said. "A group of kids from Middle Tennessee winning an international, Hockey Hall of Fame-recognized tournament shows that Nashville and the surrounding areas have truly grown into a hockey market and that championship hockey can be cultivated here. The success of the Nashville Predators, Nashville Jr. Predators and other local youth and amateur hockey organizations are helping to redefine what it means to be a traditional hockey community."
The Nashville Jr. Preds Mite Major team, comprised of players between the ages of 7 and 8, won all six games of their tournament and were crowned champions of the "A/E" Novice/Mite division, outscoring opponents by a combined score of 63-7 in the process. The team will be recognized at an upcoming Nashville Predators game. Click here for Jr. Preds scoring summaries from the tournament.
The Jr. Preds won a regional Silver Stick tournament in Huntsville, Ala. earlier this season, qualifying them for the Silver Stick Finals in Pelham, and will also be participating in the Big Bear Smoky Mountain Shootout this weekend (Jan. 13-16) at Centennial Sportsplex (222 25th Ave N, Nashville).  Big Bear is a Nashville hockey tradition that features the best teams from all over the south and Midwest and is held over MLK weekend. More info may be found at shootouthockey.com.
"When I arrived in Nashville as a member of the Predators in 2001, hockey was a sport that was relatively foreign to many people – even fans who attended games – and youth hockey programs were virtually nonexistent," Former Nashville Predators player and current color commentator Stu Grimson said. "Nashville now boasts an extremely hockey savvy fan base and a rapidly-growing youth and amateur hockey community.  These youth and amateur programs are starting to make their mark, as was recently demonstrated by the championship team at the Silver Stick tournament."
The Nashville Jr. Preds is an AA travel program comprised of Nashville area youth – fielding 10 teams from ages 8-and-under (8U) to 18-and-under (18U) – and is the official youth hockey association associated with the Nashville Predators. Teams practice at both A-Game in Cool Springs and Centennial Sportsplex in Nashville.  The program is currently in its second year of existence. The Nashville Predators have partnered with the Nashville Jr. Preds to help offset travel costs through fundraisers.  A portion of tickets sold at nashvillepredators.com/jrpredsnight for select Nashville Predators games benefit the Jr. Preds organization.
In addition to the name affiliation, the Jr. Preds have other Nashville Predators connections, with several Nashville Predators staff members serving roles with the team. Hockey Operations Manager Brandon Walker and Director of Youth Hockey and Fan Development Andee Boiman serve as At-Large Board Members, President and Chief Operating Officer Sean Henry and Color Commentator Stu Grimson serve as Advisory Board Members and Executive Vice President Chris Parker often volunteers his time for Jr. Preds on-ice instruction.
The Nashville Jr. Predators Mite Major team is coached by Tim McCallister, Hockey Director at A-Game in Cool Springs, who spends time training Nashville Predators of all ages; McCallister is a mainstay in the Predators Hockey School, a summer youth hockey program, and has also helped Nashville Predators players with off-season conditioning and training.
To learn more about the International Silver Stick Hockley Association, visit silverstick.org. For more information, rosters and game schedules for the Nashville Jr. Preds, visit nashvillejrpredators.com.
—
PHOTO CREDIT: courtesy of the Jr. Predators // special to section303.com (used with permission)