What are Preds getting in Michael Del Zotto?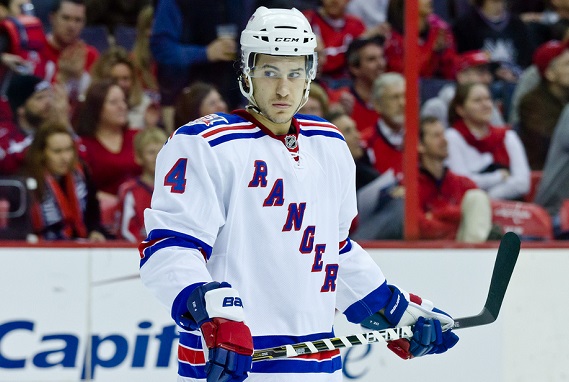 As you know, the Nashville Predators received Michael Del Zotto from the New York Rangers in exchange for Kevin Klein yesterday. Del Zotto tallied 41 points in 2011-12 but, this year, has barely broken double digits. Klein, on the other hand, was a stay-at-home defenseman who provided a safety net of sorts for young guys like Seth Jones and Ryan Ellis.
If this were the Matt Hendricks-for-Devan Dubnyk trade where the advantages were obvious, we wouldn't bother but this is a defenseman-for-defenseman straight up swap where one type of player is leaving with another completely different type of player replacing him.
As a result, we turned to our friends Joe Fortunato of Blueshirt Banter and Adam Herman of The New York Rangers Blog to help supply some insight on the newest Predator.
1. What was Del Zotto doing right in 2011-12 and what has gone wrong this season?
"There's a lot that happened, quite frankly, that was completely out of Del Zotto's control. Marc Staal, a left-handed defenseman, missed every game of the 2011-12 season up until the Winter Classic against the Flyers. Staal was the team's best defenseman and this meant Ryan McDonagh moved up to pair with Dan Girardi while Del Zotto moved to the left side of the top-four. Del Zotto flourished in the role and head coach John Tortorella went out of his way to lament Del Zotto for not getting an invite to the All-Star Game.

Fortunately, Staal did return but that created the "problem" of having three very good left-handed defensemen. The real problem, though, was right-handed defenseman 

Michael Sauer

getting a concussion that ultimately ended his career. This was an issue for the Rangers going into 2012-13 and wasn't addressed until the acquisition of Klein yesterday. The team had too many LHD and not enough RHD. Someone had to move to the right side to compensate for Sauer's loss, and it sure as hell wasn't going to be McDonagh or Staal, thus it was Del Zotto by default. To be frank, he's not meant to be on the right side. He can't play it. The Rangers didn't have much of a choice, though, so Tortorella — and more recently Vigneault — had to bite the bullet and deal with it. With Vigneault in particular it seemed that Del Zotto didn't mesh but it's no coincidence that Del Zotto was much improved the last 2-3 weeks once Vigneault moved him to his natural left side."

–

Adam Herman

, nyrangersblog.com
2. Is he solely an offensive defenseman or can he play both sides of the puck?
"Del Zotto is much more of an offensive defenseman than a defensive one. There were times last year and this year where Del Zotto was one of the Rangers' best penalty killers, but those moments were far and few between. Far more often, recently, we've seen plays

like the one against the Islanders a couple of days ago

where the Islanders have a free look at the net (and scored) thanks to Del Zotto being lost on the play. On the flip side, his offense has also taken a big step back but he can do things with the puck in the right circumstances. Those seasons where he put up bigger point totals aren't exactly a fluke but his game hasn't gotten back to that level for the past two years."

–

Joe Fortunato

, blueshirtbanter.com
3. Will he benefit from a change of scenery?
"Often the "change of scenery" idea is thrown around as a desperate source of hope for otherwise bad players. But I think, in Del Zotto's case, it truly applies. Vigneault made it very obvious he wasn't in love with Del Zotto and the writing was on the wall for him. His agent met with management sometime in December, right around when Vigneault conveniently decided to play him on his natural side, and the inference made by me and others is that this was basically Del Zotto being showcased. I don't doubt that Del Zotto had a tremendous time in New York and will miss being with the Rangers but I also assume he's extremely relieved that the move is over and done with and he can move on. Like I said before, his issues are more mental than physical, and so I think the fresh start with a brand new team in a different conference is going to be a welcome situation for him.

Barry Trotz has done a phenomenal job over his tenure with the Predators in getting the most out of young defensemen — I'm sure I don't have to give you and Predators fans any examples of that — and I think he's about as capable as anyone in getting the best out of Del Zotto. There's also the very important fact that he's going to presumably move to his natural side with the Predators and that will benefit him tremendously even if nothing else does. Does this all mean that Del Zotto figures it all out with the Predators and there's a happy ending? We'll see. I think there is reason for cautious optimism."
– Adam Herman, nyrangersblog.com
4. The take away here?
"Not every player is destined to succeed in a market like New York, where the pressure and media attention is so high and the fans are so demanding. I think after a while Del Zotto's struggles started to compound on themselves and it just turned into a situation where neither side was winning with him remaining on the team. It wouldn't shock me if he turned into that 40-point defenseman again in Nashville. It also wouldn't shock me if he didn't."
– Joe Fortunato, blueshirtbanter.com
"We've seen a handful of highly talented offensive defensemen who struggle to stick because they're just so incompetent in their own end; Marc-Andre Bergeron or former Predator Andy Delmore come to mind. Del Zotto's not in that class. Make no mistake, his value is in his offense but he's not the nightly liability that he's made out to be by some."
– Adam Herman, nyrangersblog.com
—
PHOTO CREDIT: Bridget Samuels (used with permission)