What the Experts Say: Jack Dougherty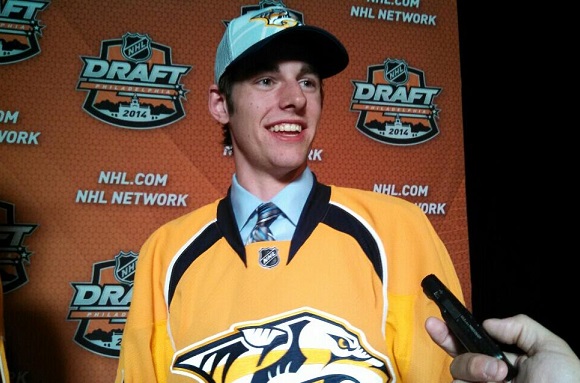 All of our draft day coverage is presented by Copeland Wealth Management. They help build and maintain wealth through a combination of customized direct investment strategies, trusted relationships and comprehensive financial planning. By helping you reach your financial goals, they reach their most important goal: becoming your trusted advisor.
Please support those who support us.
***
The Nashville Predators used their third choice in the 2014 NHL Draft (51st overall) on American defenseman Jack Dougherty. We've compiled some of the experts' scouting reports on him so they're all in one place.
Considering the spot in the draft in which the Preds got him, they may have gotten a steal.
THE BASICS
Team: USNTDP (USHL), attending Wisconsin starting this fall
Position: defense
Age: 18
Height: 6'2″
Weight: 185 lbs.
RANKINGS
THN: 25
McKeen's: 22
HockeyProspect.com: 27
ISS: 42
International Scouting Services: 37
Hockey Prospectus: 21
WHAT THE EXPERTS SAY
The Hockey News: "Saw ample ice time with Team USA while he adjusted from the high school game and has a knack for getting his point shot through via power or placement. The University of Wisconsin recruit was a standout at the All-American Prospects Game and opened the scoring in USA's 5-2 gold medal win over the Czechs at the under-18's."
P. Myre (ISS): "Not very creative with the puck but a good passer and a good shot. Has a good chance to become a top four defenseman in the NHL."
O. Lahdesmaki (ISS): "Strong all-around d-man, can do it all. Strong skater, good mobility for all directions. Made a strong case for himself at U18 Worlds for late 1st, early 2nd discussion."
HockeyProspect.com: "Dougherty has a good blend of offensive skill, hockey sense, positioning and physicality. He is a good skater and plays a calm, cool and collected style game."
Mark Edwards (HockeyProspect.com): "Hard nosed tough kid, very soft spoken when I spoke with him. Was bigger than I expected. He moves the puck but it not very dynamic. He logs a ton of minutes and he doesn't make a lot of mistakes."
McKeen's: "Not a control finesse defender rather keeps his game with the puck simple and jumps into the action when he sees an opening. Showcased layers of toughness and exhibited a nasty streak as it was not uncommon for him to look to land a big hit/ Assertive in his own zone he thrives in 1 on 1 battles not surrendering an inch, playing his marked man hard."
ISS: "Right handed defenseman with good speed and mobility. Has good puck skills, hockey sense and competitiveness. Defends well with good reads and execution. Moves the puck with accuracy out of the defensive zone and displays confidence with the puck and taking control of the rush. Very rarely gets caught out of position and always impresses in the plus/minus department."
Elite Prospects: "Dougherty is an intelligent defenseman who tries to blend strong positioning while trying to inflict a physical dimension on his opponent. He isn't the fleetest of foot, but does get where he needs to go."
Hockey Prospectus: "A right-handed two-way defenseman, Dougherty has been impressing all year. He is a reliable, physical blueliner, who can skate very well, has good size and has pro decision-making abilities. Dougherty has a heavy shot from the point and can move the puck well, which he showed very successfully at the U18s in Finalnd this spring. Dougherty has moved up the rankings all season and has every chance of being the third defenseman selected in the 2014 draft."
—
PHOTO CREDIT: Jeremy K. Gover // section303.com