What the Experts Say: Vladislav Kamenev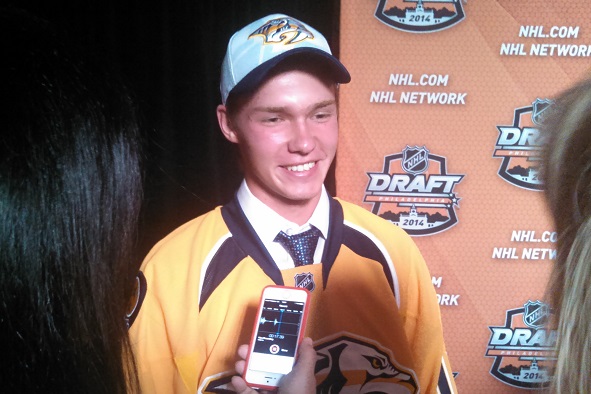 All of our draft day coverage is presented by Copeland Wealth Management. They help build and maintain wealth through a combination of customized direct investment strategies, trusted relationships and comprehensive financial planning. By helping you reach your financial goals, they reach their most important goal: becoming your trusted advisor.
Please support those who support us.
***
The Nashville Predators used their second choice in the 2014 NHL Draft (42nd overall) on Russian forward Vladislav Kamenev. We've compiled some of the experts' scouting reports on him so they're all in one place.
THE BASICS
Team: Magnitogorsk (KHL)
Position: left wing
Age: 17
Height: 6'3″
Weight: 203 lbs.
RANKINGS
THN: 56
McKeen's: 59
Hockey Prospect: 35
ISS: 29
International Scouting Services: 29
Hockey Prospectus: 30
WHAT THE EXPERTS SAY
The Hockey News: "Scouts see a player strong on his feet with excellent skill. He is equally adept at playmaking and scoring. But there are red flags beyond the Russian factor." THN projects him as an "enigmatic scorer."
 S. Cocker (ISS): "Heavy and accurate offensive weapons. Powerful stride and puck dominance gives him the advantage."
HockeyProspect.com: "Kamenev is a big skilled forward with good natural offensive instincts. He showed to be an illegent player in our viewings. Kamenev has a good shot, including a solid one-timer. He passed up on some good opportunities to shoot the puck at times by choosing to look for the perfect play. He did show off great playmaking ability as for the most part, distributing the puck to teammates very well."
Mark Edwards (HockeyProspect.com): "In general, I liked him. He did have some real brain cramps in his game that, along with the Russian factor, might make me back off him a bit at rankings time."
McKeen's: "Enjoyed a coming out party at the 2013 World Junior A Challenge finishing fourth in tournament scoring and helped Russia capture their first silver medal, their best result at this tournament. A brute physical player who can be guilty of playing over the edge and taking unnecessary infractions."
ISS: "Kamenev possesses a powerful frame and utilizes it will on the offensive rush to dominate possession and drive to the net. Strength and balance on his skates is excellent, competes very well against the top opposition defenders. Slows the game down in the offensive zone, creating offense through his lowers body strength, good puckhandling and lethal shot when he's able to get it off."
Elite Prospects: "Kamenev is a talented forward with good sized who uses his physical gifts to protect the puck and win board battles. He sees the ice well, has good hands and a strong shot. Has to keep his emotions in check as he can get overzealous taking stupid penalties at times."
—
PHOTO CREDIT: Jeremy K. Gover // section303.com