Why Carlo Colaiacovo would make sense for Nashville…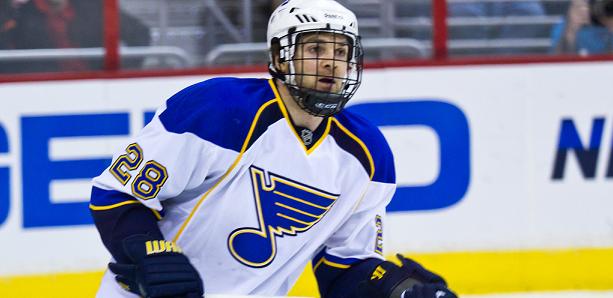 While it's true that the free agent pool is pretty barren, there is one name that could be a perfect fit for the Nashville Predators.
Carlo Colaiacovo was a member of the St. Louis Blues for the past four seasons but that time seems to be over. The Toronto native is on the market and looking for a new club. More importantly, he's looking for an opportunity to prove that his injury history hasn't gotten the best of him.
After Ryan Suter unexpectantly signed with the Minnesota Wild on July 4, the Preds found themselves without a #2 defenseman. And while they've locked up Shea Weber for life and they have promising young rear guards like Roman Josi and Ryan Ellis ready to make an impact, Nashville still has a gaping hole on that top pairing. Josi is believed to be the heir-apparent to Suter but is he ready for top line minutes each and every night?
That's where Colaiacovo comes in.
According to capgeek, the 2001 first round pick averaged the fifth most ice time last season among still-available free agents. Ice time, quite frankly, is exactly what Nashville needs. Josi may not be ready right now to log 25:00 a game but certainly in a year he will be. Signing Colaiacovo would buy the Swiss blueliner some time to ramp up to those top minutes while still giving Nashville a proven veteran to compliment Weber.
Yes, Colaiacovo has an injury history, having missed at least 15 games in each of the past three seasons. At 29 years old, he still has a lot of years left in the tank, however, and is considered to be in his prime now. By signing a one-year deal, he can use the 2012-13 campaign to prove he's worth a multi-year investment next summer.
Needless to say, if the Preds are looking for a solid #2 then they probably need to look via trade. In doing so though, they'll have to relinquish some assets. After all, to get something you have to give something. But, in this case, the player that may fill the void is a free agent. The only thing General Manager David Poile may have to give up is a few million dollars. And if that's all it takes to plug the one hole in your roster, it should be a no-brainer.
Futhermore, it appears as if the Detroit Red Wings may go after Colaiacovo since they whiffed on both Suter (via free agency) and Weber (via a trade). Oh yeah, and they lost the Rick Nash sweepstakes and the Zach Parise sweepstakes so they're feeling a little empty right about now. And for a storied franchise like Detroit, you know that's not sitting well. If Nashville can keep the Wings from even getting a second-tier player like Colaiacovo, it would further deflate their already-fragile confidence.
Is Colaiacovo a long term solution? No. Is he even a #2 defenseman in the NHL? Probably not. But he could provide steady minutes and produce on the man advantage (he lead the Blues in power play assists in 2008-09 and then tied for second in that category in 2010-11), both of which Suter did. Plus, with a strong partner like Weber, he could be the perfect band-aid Nashville needs in order to transition from the Weber/Suter era to the Weber/Josi era.
—
PHOTO CREDIT: Bridget Samuels // Flickr (used with permission)