Signing troubled but talented center Ribeiro could be HR for Preds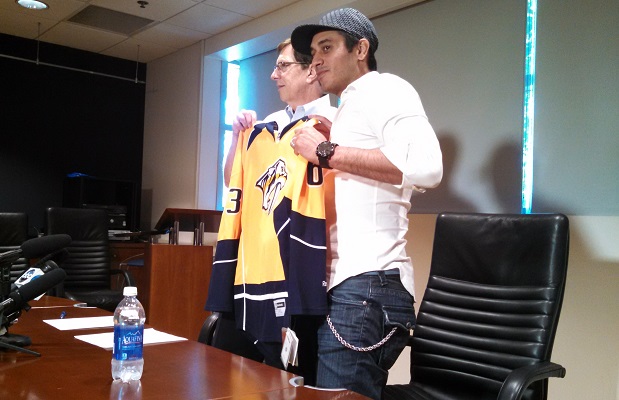 If proof was ever needed that the Nashville Predators are focusing on the forward position, look no further than today.
In an off-season where they've already added sniper James Neal and veteran center Olli Jokinen, General Manager David Poile and the Predators signed another offensive weapon this morning.
Former All-Star Mike Ribeiro, fresh off of a disappointing season with the Phoenix Coyotes in which he was bought out of his four-year, $22 million deal after just a single season, is now a Predator.
"It didn't go the way I wanted it to go in Phoenix," Ribeiro admitted with a heavy heart. "I was separated during the year. I didn't really see my children. That made me not focus on my job. I just wanted the year to be over so I could actually go work on [my family] and on being a healthy person. I think I've done that. My head's really clear and I have my family with me."
"He and his family have gone through a lot of personal issues over the past year," Poile added. "Those issues have clearly impacted his performance on the ice and, ultimately, led to his termination in Arizona."
The GM of the Coyotes, Don Maloney, was very blunt in his comments following the buyout.
"Mike had some real behavior issues last year with us that I felt we could not tolerate going forward," Maloney said back on June 27. "To his credit, he has been getting help this off-season and obviously we hope he continues. But at the end of the year and all the background checking and what happened, we felt that, for us to move forward, we couldn't have him as a part of this team."
Nashville is hardly known for adding questionable personalities to their locker room so most can't help but see this as a stab in the dark in a desperate attempt to generate offense.
"We have done our due diligence," Poile said. "We have talked to former teammates, we've talked to coaches, managers and others. We are confident that Mike and his family are on the right track."
If the signing works out, what exactly can be expected? Ribeiro is an eight-time 50-point scorer, including a 49-point season in the lockout shortened year of 2013. One of his most productive campaigns was in 2008-09 when he was a member of the Dallas Stars in which he tallied 78 points skating alongside Neal.
"I would say that James Neal is the most excited person in our organization to once again — hopefully — play with Mike as his center iceman," Poile said.
In the two and half seasons Neal and Ribeiro played together, Neal notched 72 goals and Ribeiro amassed 180 points. With both players being a few years older and having had success elsewhere since, exciting results could come of the reunion.
"James and I have texted here and there," Ribeiro said. "He's really happy to have me on board with him. I played with him before so I know what he likes. I think we're ready to do great things here."
In light of the recent Jason Spezza situation and the constant rumor that free agent players don't want to come play in Nashville, Poile made a point to emphasize that Ribeiro courted a deal with the club and not the other way around.
"He and his agent sought us out," Poile said. "As a hockey player, they saw this as the best opportunity on the ice. For his family, they thought this was the best community for him and his family to make a home."
"We did our research as a family," Ribeiro said. "We looked around the league and we had friends who played here, Francis Bouillon played here and my wife was good friends with his wife. JP Dumont played here and a lot of other [friends]. They all said it was a great city for your kids grow up."
Is he the top line center that will solve everything for the Predators? Probably not. But even if Ribeiro's production matches his disappointing season in Arizona, he'll still give Nashville 47 points for just $1 million. Much-maligned David Legwand was good for at least 40 points a season throughout his time here but he caught the fans' ire because his cap hit was $4.5 million per. He would have been a fan favorite had his price tag been as low as Ribeiro's.
At the end of the day, this will either by a homerun or a no-harm, no-foul move. The addition of Ribeiro (and now Derek Roy) brings more offensive potential to an organization that is already steep with defense and goaltending, it provides very low-risk options at forward in the event they don't work out and will even create competition in training camp for not only the young prospects but also for under achievers like Colin Wilson and Viktor Stalberg.
"We have 16 forwards so something's going to have to give," Poile said. "Realistically, you're only going to keep 13 or 14 so the depth and the competition at training camp should be higher than we've ever had before. We weren't happy with our offense last year so we've done everything we can to make it better."
Circle the second week of September on your calendars. It's going to be interesting.
---
PHOTO CREDIT: Jeremy K. Gover // section303.com