Wilson scores 2, Hornqvist fires 14, Preds still lose…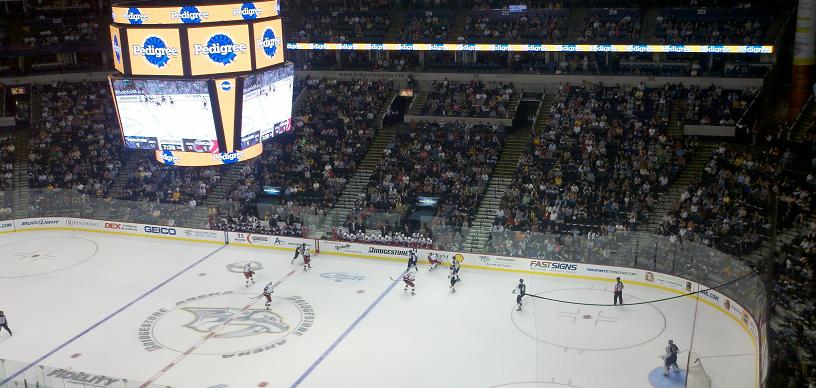 Usually, when you fire 46 shots on goal, you find yourself in the win column.
Unless, of course, you're the Nashville Predators who apparently can't buy a break right now.
The Preds lost their fifth in a row as they fell to the Dallas Stars, 4-2 in front of a sold out crowd at Bridgestone Arena on Tuesday night. Colin Wilson had two goals and Patric Hornqvist had 14 shots but that wasn't enough on this night as the Stars improved to 22-11-4 on the season.
Pekka Rinne was not as sharp as he would've liked, stopping 21 Dallas shots but allowing four goals. It was the first time he's allowed more than three goals in a game since the debacle in Toronto on November 16.
The first period featured everything you'd want in a hockey game. Two fights, solid goaltending on both ends, even a 16-8 shot advantage by the home team, but neither team could penetrate the opposition's net.
It may have taken over 24 minutes but, when somebody finally broke through, it was Rinne who caved first. After Kevin Klein had a glorious chance turned away by Dallas goalie Andrew Raycroft, the Stars raced back the other way and, with the Preds scrambling, Steve Ott put home a rebound to make it 1-0.
After Ott and Shane O'Brien dropped the gloves, Ott picked up an extra minor for slashing. Wilson made the most of the opportunity, putting a backhander past Raycroft to tie the game with exactly a minute left in the period. It was Nashville's 33rd shot of the game.
When Wilson came back from the intermission break, it was like he never left the ice. On his first shift of the stanza, Wilson distanced himself from the Stars defense on a breakaway and slid a backhander through Raycroft's five-hole to give the Preds the 2-1 lead.
The Stars answered right back, however. Less than a minute later, Loui Eriksson tied the game by netting his 16th of the year.
Mark Fistric and Krystofer Barch each tallied unassisted goals to make it 4-2 before it was all said and done.
The Predators may have gotten two goals tonight but their offensive woes continue. They average a mere one goal a game in their last five and haven't scored more than three goals in a game since December 13 when the lowly New York Islanders were in town.
It's obvious "the Hockey God's" are down on the Preds right  now. First there's the losing streak but now there's a 46 shot effort that can't warrant a win. What more do they have to do? You know, other than score? Don't be surprised if, sometime soon, the goals start coming and, when they do, they come in droves. Nashville has done all they can to try and jump start the offense but it hasn't happened. So, while you can blame injuries for their lack of production, it just needs to be accepted that, right now, things aren't going their way. Plain and simple. If they were playing terrible every night (see: late October, early November) there'd be cause for concern. But, during this streak, they've played pretty well. Luck just isn't on their side right now.
The Preds will travel to Minnesota to take on the Wild on Friday night. If you recall, this was the scene of the 5-2, completely uninspired, nobody-seemed-to-care loss in November.
Let's hope Nashville doesn't have a case of deja vu.
LEFTOVER THOUGHTS:
* Wade Belak had played in eight games this season without taking a single penalty. On his first shift in this one he grabs a fighting major and an interference minor.
* Patric Hornqvist was credited with six shots on goal in the first period, good for second most in franchise history. He finished with 14, a career high and possible (I'm checking) franchise record.
* This was the first mutli-goal game of Wilson's career.
* Dallas is now a single win behind Detroit for the Western Conference lead.
* Chris Mueller played in his first career NHL game tonight. The newest Predator finished with just 3:17 of ice time, he was 1-for-2 in the face-off dot and had a minus-1 rating. Still a game he'll remember the rest of his life.
* Linus Klasen had another solid game. Other than missing his man during a Stars attack in the second period, he looked good out on the ice. Another positive step forward to such a promising career.
* The Music City Bowl participants were in the house tonight. Members of the University of Tennessee and University of North Carolina football teams took on the game from the lower bowl.
* It was the sixth sellout of the year for the Predators, marking the quickest to six sellouts in franchise history.
MY THRE STARS (as voted on with 6:12 left in regulation)
1) Andrew Raycroft (DAL)
2) Colin Wilson (NSH)
3) Loui Eriksson (DAL)
THREE STARS OF THE GAME:
1) Loui Eriksson (DAL)
2) Colin Wilson (NSH)
3) Andrew Raycroft (DAL)
Congrats to Jessica, the winner of the Ryan Ellis-autographed copy of the new book On the Wing: A History of the Windsor Spitfires. If you didn't win, don't fret! We still have ONE MORE! We'll be giving that last one away on next week's 303:30 podcast! Be sure to subscribe via iTunes so you don't miss your chance!