With 15 healthy forwards, where would Radulov even fit in?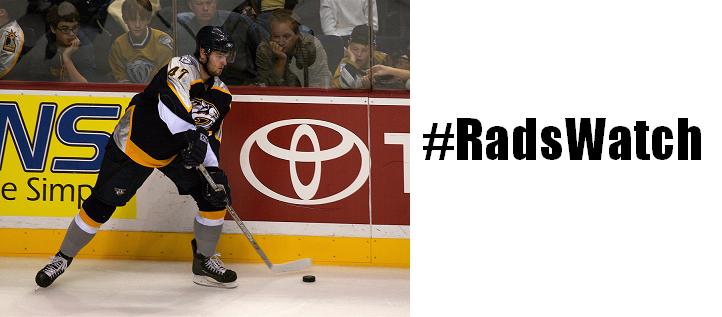 The rumor mill is in full effect today, running rampant that defected Nashville Predator winger Alexander Radulov may rejoin the team soon.
With the Predators being healthy up front and, maybe even more surprisingly, performing so well offensively, the question needs to be asked: where would the Russian sniper fit in?
Using Monday night's game against the Phoenix Coyotes as a reference, Nashville featured a lineup without Matt Halischuk, Brandon Yip and tough guy Brian McGrattan. In addition, Colin Wilson and rookies Craig Smith and Gabriel Bourque have all been part of an apparent rotation to get everyone on the bottom six playing time. If Radulov comes back, four of the guys listed above will have an even harder time seeing game action.
So where do you put him?
The conventional wisdom is to put an elite offensive player on the top line. But, in Nashville's case, that may not happen. When the Predators acquired Andrei Kostitsyn from the Montreal Canadiens at the trade deadline, Head Coach Barry Trotz was adamant about leaving the chemistry between Martin Erat, Mike Fisher and Sergei Kostitsyn alone saying "I wouldn't break up the top line, it's gone too well. It hasn't even crossed my mind. I wouldn't even do that." Based on that, one should assume that the same holds true with Radulov's addition.
So now we're talking about the second line of Patric Hornqvist, David Legwand and Andrei Kostitsyn. The problem with breaking up that line is that Andrei has six points in six games as a Predator, Legwand has five points in that same span and while Hornqvist has just three, he's tied for the team lead in goals with 21 so how do you demote one of your leading goal scorers?
After talking about this at length with Ryan Porth of Smashville 24/7 the other day, the best spot for Radulov may be in an unlikely place: on the third line. With Wilson as his other winger, Radulov could be centered by newcomer Paul Gaustad. Now while that doesn't exactly scream "potent offense" on paper, take a second and think past the stats. Guastad was brought in because of his prowess in the face-off circle and because of his strong work along the boards. As a result, Gaustad would supply his offensive wingers with puck possession as well as be the defensively responsible safety net. In a defensive-first system like Nashville's, you can't have your entire line thinking "Offense! Offense! Offense!" And that's where Gaustad comes in.
In fairness, there's also the notion that Smith might be a great center for that line. A young, exciting, dynamic line of Smith, Wilson and Radulov would make any Preds fan drool but, keep in mind, Smith is being held out of games because he's hit a wall. In each of his college seasons, he played just 41 games. In his first 41 NHL games, Smith recorded 26 points. Since then? Just seven. He's not used to the grind of a long 82-game schedule, let alone at the NHL level. So while that may be a top line next year, it may not be the best idea this season.
Something else to consider, Radulov's presence on the third line would truly give Nashville four lines they could roll and be a threat to score at any given time. If their first round opponent puts their top defensive tandem up against the Fisher line, no problem, Legwand's line can score. If they put their shutout down line up against Legwand's line, no problem. Gaustad's line can score. And with well-rounded players like Nick Spaling, Jordin Tootoo and Bourque on the fourth line, what will teams do when they take the ice?
Nashville would have an answer for every match-up and that's invaluable in the postseason. After all, they saw this very thing last year when the Vancouver Canucks beat them to advance  to the Western Conference Finals. The Preds shut down the Sedins, allowing Ryan Kesler to go balistic.
Regardless of where they put Radulov, it's going to be very exciting. Nashville has the fourth best offense in the Western Conference and the second best power play in the entire league. The addition of Radulov would only make those numbers better.
And a long playoff run more likely.
—
PHOTO CREDIT: Jameson Roper // Flickr (used with permission)