With camp set to open, Preds organizational shake up coming. Who's going where?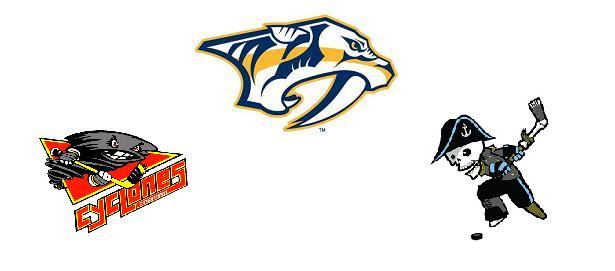 The end of the lockout means the end of guys playing where they shouldn't be. Not just with NHL players overseas but also right here in North America. And with NHL camps about to open this weekend, the Nashville Predators are sure to make some organizational adjustments that will shake up the depth chart.
Let's start from the top and work ourselves down. Based on General Manager David Poile's comments on Monday, we know that both Ryan Ellis and Jon Blum will get serious consideration for the big club in camp. Anybody else's recall, however, is a big question mark.
The Preds lost some toughness when Jordin Tootoo signed with the Detroit Red Wings last summer. Poile, himself, has admitted that Michael Latta may be his heir apparent.
"He's a little bit of a disturber," Poile told us back in August. "He's maybe a little bit of a Tootoo replacement eventually. He's an in-your-face type of guy."
His 21 points is second on the Admirals and his 102 penalty minutes are tied for 14th in the entire AHL. But is Latta ready for prime time? Does he at least get an invite to mini-camp? Some would say he deserves one.
And what about 2010 first rounder Austin Watson? In his first pro season, he's tied for the Admirals lead in goals (12) and he's fourth in scoring (19 points). Does he deserve a look or is he best served to play a full year in the AHL before getting a legit shot at the NHL?
"With every young player, you don't want to be limiting to them," Poile said before the season. "You want them to play in Milwaukee so you can see how good they can be. Is he going to be a first line guy (in the NHL) or a fourth line guy? He's played in two Memorial Cups and when he plays in all these important games, you notice him all the time. So he's a winner. But there's some growth that has to take place."
With Mattias Ekholm injured, the only sure-fire Admirals that will be invited to camp are Chris Mueller, Ellis and Blum (Journal-Sentinel's Dave Boehler reported they were missing from practice yesterday). Mueller has had a few cups of coffee in Music City over the past couple years totaling 19 games. All three of his NHL points came as assists on JP Dumont goals.
Any other invitation to camp is anyone's guess. After all, it's not exactly easy to hold a full camp when the AHL is right in the middle of their season. The good news for bubble guys like Latta, Watson and leading scorer Taylor Beck, however, is that the Admirals don't play for five days after Sunday's tilt against Peoria. The Preds could bring them in for the last half of camp without impacting their main farm team.
But with those recalls to Nashville come holes in Milwaukee. And that's where Nashville's "AA" affiliate comes in. The ECHL's Cincinnati Cyclones have seen talented first year pro's like Josh Shalla, Anthony Bitteto and Charles-Olivier Roussel play there. 2010 third round pick Taylor Aronson spent the majority of last season in Ohio as well, thanks to the logjam at the defense position. Shalla, named a 2012 ECHL All-Star, Roussel and Bitetto have all been called up to Milwaukee recently and they should stay put. You can expect Aronson to join them later this week.
It will be Aronson's first stint with the Ads since last season.
One final wrinkle to the player movement will probably be Cyclones goaltender Zoltan Hetneyi. A free-agent invite last summer, the Hungarian netminder impressed in development camp but has struggled in his first season here in North America. His .887 save percentage is underwhelming and he's currently buried behind Florida Panthers prospects Brian Foster and Michael Houser in Cincy. He could use more time with goaltending coach Mitch Korn and a week at Predators at camp will give him just that. In addition, carrying a third goalie is smart since Pekka Rinne played in the KHL this season and hasn't played since getting injured in December. Prospects Jeremy Smith and Magnus Hellberg need to keep progressing in Milwaukee and, therefore, Hetenyi would be in the same position there as he is in Cincinnati.
When Predators camp opens this weekend, we expect to see the following (listed alphabetically):
FORWARDS
Martin Erat
Mike Fisher
Paul Gaustad
Matt Halischuk
Patric Hornqvist
Sergei Kostitsyn
David Legwand
Brian McGrattan
Chris Mueller
Craig Smith
Nick Spaling
Colin Wilson
Brandon Yip
DEFENSEMAN
Jon Blum
Ryan Ellis
Hal Gill
Scott Hannan
Roman Josi
Kevin Klein
Shea Weber
GOALTENDERS
Zoltan Hetenyi
Chris Mason
Pekka Rinne
We very well could see more players added to camp once the Admirals complete their game against Peoria on Sunday.
NOTE: Forward Gabriel Bourque is on Milwaukee's roster but is on the shelf with a lower body injury. Once healthy, the Preds will certainly call him up.
—
RELATED READING: