You can boycott NHL hockey if you want but you'll be sacrificing something special…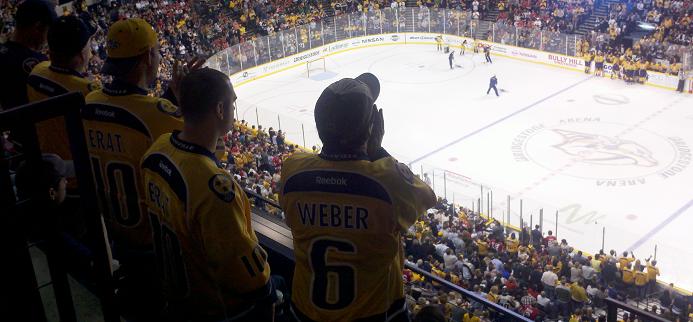 If you're a hockey fan in Middle Tennessee, you've been caught up in this ridiculous lockout. Since September 15, the NHL and NHLPA have been embroiled in continuous posturing, lewd remarks and mud slinging. All to lose more than three months of the scheduled season only to come to an agreement in the wee hours of the morning on Sunday, January 6.
In short, it was billionaires fighting millionaires. And, during a recession, that doesn't go over very well.
Some fans are irate. Okay, most fans are irate. The franchises in Canada and the northern states will be fine. Their fans will come back to the rink and, if not, they'll be replaced by other fans. Here in a non-traditional market like Nashville, however, the turn out may be scarce. At least at first. I talked to one prominent season ticket holder last week who said that he's at a crossroads. He's been through both lockouts in the past eight years and he's "tired of being taken advantage of" by the league. But, on the other hand, he cares about the Predators, wants them to succeed and wants to continue to be part of that success.
If he is considering cancelling his season tickets, how many other fans are considering it? How many fans have already done it? And that's not even mentioning the walk-up sales from fringe fans.
Don't get me wrong, I agree that the only way fans can send a message to the league is to refrain from supporting the product. Fewer fans equals less ticket revenue. Less ticket revenue equals lower sponsorship dollars. Lower sponsorship dollars equals… well, you get the idea. And, honestly, I support you if that's your choice. I would remind you, however, that missing games at Bridgestone Arena means you'll be missing something else. And that something else is a lot more meaningful than some game.
The friendships.
The people you sit next to share a common bond. The friends you meet up with at the intermissions share a common bond. The Predators staff members that you see each and every night share a common bond. They all love hockey as much as you do. How many times have you gone to one of our watch parties at Brewhouse South and known no one? Yet you still manage to have a great time. It's because there's a common thread that transcends occupations, hobbies, passions, music, religion and politics. Do you really want to walk away from all the friends you've made over the years?
"I love the sport no matter what," longtime Nashville season ticket holder Brian Binkley said. "College, AHL, NHL, whatever. But mainly, it's the people. You sit with people at the games and you kind of grow up with them. That's the biggest reason. It's more of a family environment. If I walked away, I would really miss that."
Nobody wants to support "the bad guys." And if you go to a game at 501 Broadway, you may think you're doing just that. But remember, there's love there too. There's love and passion and camaraderie from all those around you. Some who probably feel just like you do.
Stay mad at the lockout and at those who took our game from us for three needless months. Don't forget that. But also don't forget about your 17,113 best friends who appreciate every goal, every save and every 303 chant right along with you. Don't come back for the players or for the owners or even for the sport. Come back for a more important reason. The friendships.
We very much hope to see you at the rink.
—
PHOTO CREDIT: Jeremy K. Gover // section303.com