With hockey back, what does the Predators roster look like (for now)?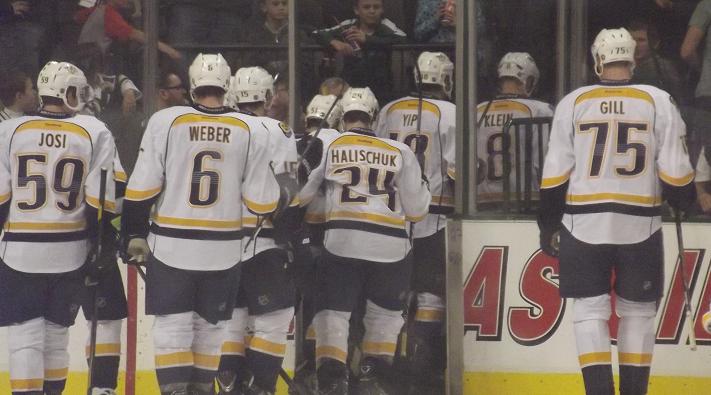 The Nashville Predators haven't taken the ice since May 7, 2012. On July 4, the roster got a major face lift. And thanks to the lockout, most players in the AHL won't have a true training camp in order to snag an NHL roster spot.
So what does the Preds roster look like as of this moment?
The goaltending is set in stone with back-to-back Vezina Trophy finalist Pekka Rinne starting between the pipes. Familiar face Chris Mason (who's in his third tour of duty with Nashville) was signed on July 1 to back him up.
The blueline features two-time Norris Trophy runner-up Shea Weber, veterans Hal Gill, Kevin Klein and Scott Hannan as well as sophomore Roman Josi. While it's assumed youngsters Ryan Ellis and Jon Blum are in the mix, one of them will be on the outside looking in unless the team decides to carry seven defensemen for the grind of a compacted schedule.
Nashville doesn't have a group of forwards that'll excite the average hockey fan but the depth chart is solid from top to bottom. With veteran contributors like Mike Fisher, Martin Erat, David Legwand, Patric Hornqvist and Sergei Kostitsyn, occasional producers such as Matt Halischuk, Nick Spaling, Paul Gaustad and Brandon Yip as well as exciting up-and-comers like Craig Smith and Colin Wilson, the Predators appear to be well balanced up front.
Tough guy Brian McGrattan even adds a physical presence.
But what does General Manager David Poile have up his sleeve? Does he want to add an offensive weapon? Does he need to add a solid presence to the defense corps? Only time will tell. And, in a shortened season like the one they're about to embark on, a few losses early could spell trouble for playoff hopes. Poile and his staff will have to figure things out pretty quickly.
But if the Predators end up going with the roster they have — and can stay healthy — they'll have a legitimate shot at a Central Division title. Sound far fetched? Think again. The Detroit Red Wings are hurting on defense due to Nicklas Lidstrom's retirement and Brad Stuart moving back to San Jose, the Chicago Blackhawks have yet to solve their goaltending problem and the St. Louis Blues can't possibly maintain their sub-2.00 goals against average from last season. Can they?
Bottom line is it's anybody's division now. Well, except for maybe Columbus. Nashville has stability between the pipes, four lines that can put the puck in the net and one of the best defense corps in the NHL, even without departed All-Star Ryan Suter.
Missing the playoffs in 2013 could be catastrophic for the Predators organization. Raising a Central Division banner to the rafters of Bridgestone Arena, however, could finally cement their place in the Nashville sports culture.
—
PHOTO CREDIT: Melissa Grissom (used with permission)