With injuries to Hornqvist and Wilson, Trotz says Preds may look to Milwaukee…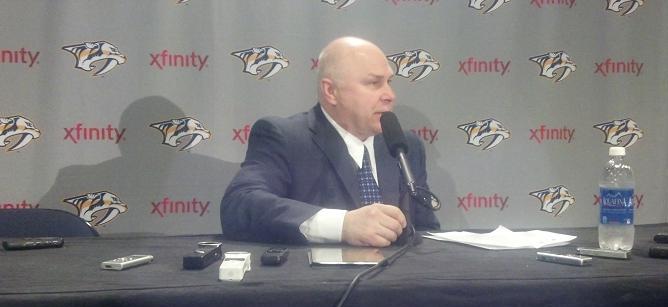 With the injuries to last season's leading goal scorer, Patric Hornqvist, and this season's leading goal scorer, Colin Wilson, the Nashville Predators will be looking to their AHL affiliate, the Milwaukee Admirals, to fill some holes.
"I think there's a number of guys," Head Coach Barry Trotz said of the possible candidates for a recall. "There's obviously (Chris) Mueller, (Austin) Watson and (Taylor) Beck. (Michael) Latta is a little different type of player. Kevin Henderson's had a pretty good year. Whoever's going well might get a chance."
Last week, in order to find a spark offensively, the Predators were awfully busy on the transaction front. They claimed both Bobby Butler and Zach Boychuk off of waivers, recalled defenseman Victor Bartley and sent Matt Halischuk down to Milwaukee on a conditioning assignment.
Halischuk bagged 15 goals last year for Nashville but has struggled this season. In two games with the Admirals thus far, he has more points (3) than he had in 16 games with the Predators (1).
As for the recent additions, Bartley made his NHL debut on Friday night against the Edmonton Oilers and looked good this weekend despite being held off the scoresheet. Butler drew three penalties and created some offensive chances this weekend while Boychuk scored in his first game as a Predator and had a solid game against the Minnesota Wild as well.
If both Hornqvist and Wilson can't make the five-game road trip this week, it will be interesting to see who Nashville recalls. Beck has basically led the Admirals in scoring from the first week of the AHL season until now and has 39 points in just 48 games. Watson, their first round pick in 2010, led the team in goals for a while but has since trailed off. His big body and ability to play center, if need be, may help his cause, however. Mueller has had a handful of stints with the big club and knows the system quite well. The fact that he leads all Milwaukee scorers with 18 goals doesn't hurt either.
And then there's Latta. His 167 penalty minutes are tied for ninth in the entire AHL but, as an added bonus, he can contribute offensively too. His 23 assists are second on the Ads and he has an impressive 29 points (third most on the team) despite spending a lot of time in the penalty box. He's even been called an "eventual Jordin Tootoo replacement" by both Trotz and General Manager David Poile. Latta's style of play could be exactly what the Predators are looking for right now. Someone to provide energy, grit and determination while being able to contribute on the scoresheet.
"He's a pain in the ass to play against, I can't say it any other way," Trotz said. "He has more offensive instincts than Toots did. He's pretty creative and has put up numbers but he's also one of those guys who gets under your skin, he's hard to play against and he's fearless."
For those long-time hockey fans who are imagining Boston Bruins legend Cam Neely reincarnate, Trotz says slow down.
"Cam was an exceptional power forward," Trotz said. "For me, that would be an inaccurate comparison to put on him."
Regardless of who the Predators bring up, they won't miss much AHL time as a result. During Nashville's entire five game road trip, the Admirals only play two games, both at home.
"With Halischuk coming back, we'll see where our roster is," Trotz said after Saturday's game. "And Brandon Yip is pretty close to coming back so we'll need to make some decisions probably tomorrow or Monday."
—
PHOTO CREDIT: Jeremy K. Gover // section303.com