Would Evander Kane be a good idea for the Preds?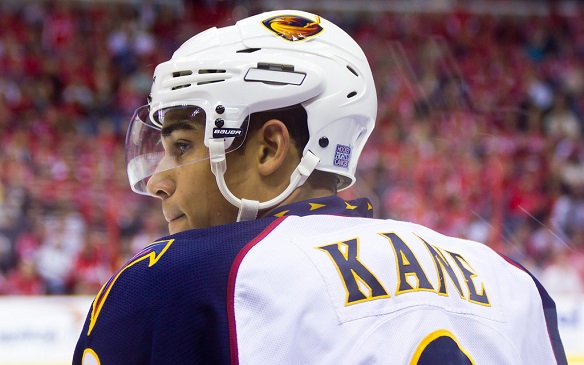 EDITOR'S NOTE: Let's make one thing perfectly clear. I am not writing this in response to a certain rumor monger. The absolute last thing I want to do — personally and professionally — is give sites like that any publicity or validity. So much so that I won't mention the person's site or name. This post was in the works over the past few days, well before he mentioned the Predators as a possible trade partner. I'm only going ahead with this post because, selfishly, I had written 80 percent of it and decided it was still a worthy conversation topic.
Okay, I'm done now. Thank you for reading.
---
General Manager David Poile and the Nashville Predators have spent the last few weeks retooling the forward position. They acquired former 40-goal scorer James Neal from the Pittsburgh Penguins on June 27 and then signed a potential top line center in Mike Ribeiro and a potentially good second line center in Derek Roy on July 15.
"We have 16 forwards," Poile said during his press conference on Tuesday. "Something's going to have to give."
If the Predators are bursting at the seams with forwards, why should they add another?
Because it's Evander Kane, that's why.
The Winnipeg Jets winger is just 22 years old but is already a former 30-goal scorer. Other guys who were 30-goal scorers by their 23rd birthday include Phil Kessel, Bobby Ryan, Jordan Eberle, Tyler Seguin and Jeff Skinner. On some pretty bad Winnipeg/Atlanta Thrashers teams, Kane has averaged 40 points a season (that includes his rookie campaign when he was 18 and the lockout shortened year of 2012-13, by the way) and rumor has it that he'd like to leave Winnipeg in a hurry.
Speaking of age, Kane would fit right into what Poile is trying to build in Music City. Shea Weber is 28, Roman Josi is 24, Seth Jones is 19, Craig Smith is 24, Filip Forsberg is 19, Calle Jarnkrok is 22 and Neal is 26. Bringing in Kane would give the Preds something they didn't get with the Ribeiro and Roy signings: the acquisition of a long term puzzle piece.
On the flip side, however, if Riberio and Roy don't work out, they're only on one-year contracts worth a total of $2.05 million so it'll be no harm, no foul. With Kane, if he doesn't work out, the team is on the hook until June 2018 at an annual cap hit of $5.25 million.
And it's not just about money and term. Poile will have sacrificed assets to get him. What would it take Nashville to land a star-in-the-making like Kane? Whatever the price is, it'll be high. It can be assumed that at least one roster player would have to go the other way and the Jets need defensemen. Conventional wisdom says Poile wouldn't trade one of the big three (and Anton Volchenkov just signed) so that leaves the bottom pairing. Are the Preds willing to part with a Ryan Ellis? What about a Mattias Ekholm? And certainly a prospect or a draft pick would be involved as well. Maybe both.
Nashville's roster isn't in a position to take on another forward but, were one (or two) sent the other way as compensation, some space could be created.
Without question, Kane is a top line forward. With that in mind, imagine him on one side, Neal on the other with Ribeiro piling up assists left, right and sideways. That would leave Smith's speed, Olli Jokinen's playmaking and Roy's balanced two-way play on the second line. And then there's the third line which could feature a creative trio of Forsberg, Jarnkrok and Viktor Stalberg or Colin Wilson.
That's three lines that can put the puck in the net. A far cry from the last two seasons when the Predators featured a balanced attack that was barely an attack at all.
The good news for Nashville is that their goaltending and defense are pretty well solidified. Add those elements to an offense that features a motivated Ribeiro, a confident Neal and a relieved Kane and that's pretty promising if you're a Preds fan. Is it the best team in the world? No. But it's the best team Nashville's fielded since 2012.
And maybe since 2007.
---
PHOTO CREDIT: Bridget Samuels (used with permission)