Poile on RFA Ryan Ellis: "We're a ways apart"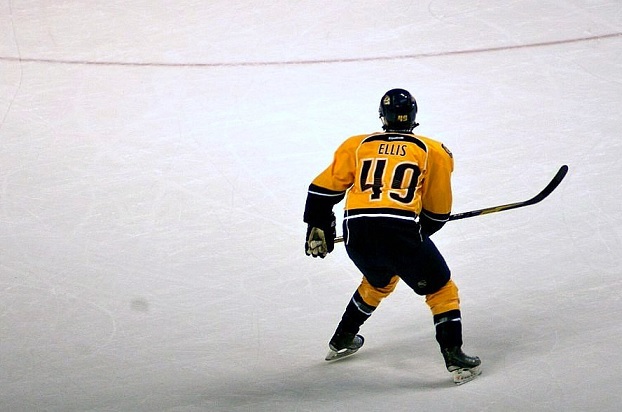 We spoke with Nashville Predators General Manager David Poile earlier today and, among other things, he offered an update on the negotiations between the team and restricted free agent defenseman Ryan Ellis.
"We're having on-going discussions," he said. "We're a ways apart. Obviously, if we weren't we would have a deal done."
The former Windsor Spitfire captain had a productive year last season, netting 27 points in 80 games while mostly logging third pairing (and power play) minutes.
"We're really excited about his future, how he played the last half of the season and the possibilities of his type of game under Coach [Peter] Laviolette," Poile said. "It's just the type of negotiation where we just haven't gotten together. But there's quite a few younger players that are still unsigned on a lot of clubs right now."
Were Ellis to return to the club that drafted him 11th overall in 2009, it would give Nashville a defense corps that featured Shea Weber and Roman Josi on the top pair, Seth Jones and Anton Volchenkov on the second pair and Mattias Ekholm and Ellis on the bottom pair. That's a blueline that can both move the puck and score at any given time.
A lot of his success came from assistant coach Phil Housley who just so happens to be the all-time leading scorer among American-born defensemen. Like Ellis, Housley was considered undersized when he played but, as you can see by 1,232 points in 1,495 NHL games, he overcame that.
"He was instrumental," Ellis told us after the season. "We're somewhat similar players and, to have someone behind the bench with that kind of knowledge helping me out in both zones, it improved my game a lot."
"Our desire is certainly to have Ryan done before training camp," Poile said. "That's the target that we have."
If they can't, they'll be missing a shot from the point on the power play that rivals Weber's and no team can afford to be without that.
---
PHOTO CREDIT: Sarah Fuqua (used with permission)