2008 Kitchener Rangers well represented in Predators' victory…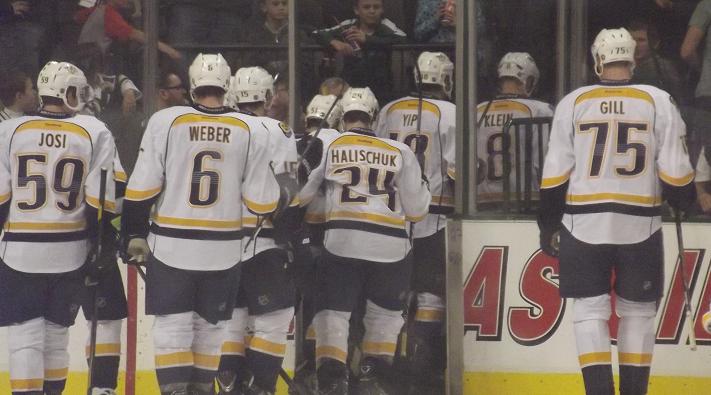 If only Justin Azevedo were here.
Alumni of the 2008 Memorial Cup runner-up Kitchener Rangers factored into every goal but the insurance marker as the Nashville Predators beat the Phoenix Coyotes, 3-0, in front of yet another sellout crowd at Bridgestone Arena.
Nashville's Pekka Rinne made 19 saves for his second consecutive shutout and third in his last four games. The quantity of stops may not be exciting but half of them ranged from spectacular to important. Rinne is now 6-3-3 after starting the year 0-2-3.
Despite a dominant second period by the Preds — including two point-blank chances in the final minute — both teams remained scoreless until the third. With the former Kitchener winger Mikkel Boedker in the box, Gabriel Bourque deflected an innocent Martin Erat shot while standing in front of Mike Smith to make it 1-0.
Minutes later, two more Kitchener alums, Matt Halischuk and Nick Spaling, hooked up to make it 2-0, Nashville. A strong forecheck by Colin Wilson led to a perfect backhand pass by Halischuk. The puck was sent right to Spaling's tape and he tucked his shot under the bar for the two goal lead.
The Preds put the icing on the cake when Ryan Ellis pinched, picking the puck up on the half wall, and dishing a gorgeous pass to Mike Fisher standing all alone in the near face-off circle. His shot beat Smith clean for his second tally of the season and the final goal of the contest.
The red hot Anaheim Ducks are next up for the Predators. Teemu Selanne and company will be in town on Saturday night and, if he retires after this season like most think he will, this will be the last time you'll get to see him play in Music City. Considered one of the game's greatest players, Selanne is one of the classiest as well.
Puck drops at 7:00pm Central and you can hear all the action on 102.5 The Game or watch it all on SportSouth.
—
PHOTO CREDIT: Melissa Grissom (used with permission)