2011 draft class looking bleak as Balisy signs with St. Johns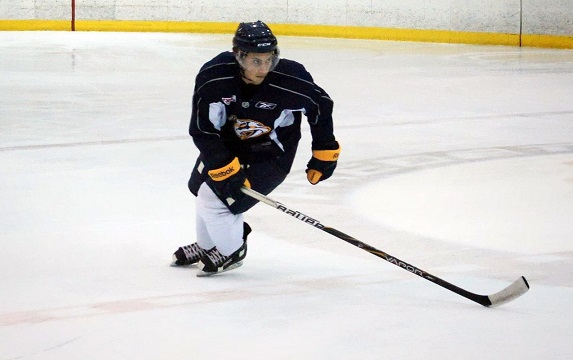 Chase Balisy, the sixth round pick of the Nashville Predators in 2011, has signed an AHL deal with the St. John's IceCaps.
Balisy, 22, captained the Western Michigan Broncos last season and finished second on the team in scoring.
Nashville's 2011 draft class is turning into a bit of a rough one. Their seventh round pick, Brent Andrews, went onto win the Memorial Cup in 2013 with the Halifax Mooseheads of the QMJHL but chose not to sign a pro contract afterward. Fifth round pick Simon Karlsson came states-side to play with the Plymouth Whalers of the OHL but ended up returning to Sweden after just a single season. Josh Shalla was a two-time 40-goal scorer in junior but has split time between the Milwaukee Admirals and the Cincinnati Cyclones each of his years as a pro.
Of course, Nashville's 2011 crop could be salvaged by two players in particular. Swedish goaltender Magnus Hellberg had a great season in 2012-13, single-handedly propelling the Admirals into the Calder Cup Playoffs. He should rebound from the two separate injuries that stunted his development last year to challenge for the starting role in Milwaukee. And forward Miikka Salomaki not only led the Ads with 50 points last season — his first in North America — but also won silver while representing his native Finland at the World Championships.
Boston University alum Garrett Noonan is the only other 2011 draft choice and he'll join the organization this year.
By comparison, their 2012 class could end up being a top notch one. Pontus Aberg was second on his SEL club last year despite being just 20 years old, Colton Sissons has already had a cup of coffee at the NHL level and Jimmy Versey not only led Harvard in scoring as just a sophomore last season but also won gold with Seth Jones as a member of Team USA in the 2013 World Junior Championships. Brendan Leipsic was the leading scorer in all of Canadian Major Junior following his draft year, sixth rounder Marek Mazanec won the NHL's Rookie of the Month Award this past November when Pekka Rinne was shelved with an E. coli infection in his surgically repaired hip and Zach Stepan represented the US at the 2014 World Juniors.
Potential has always been the name of the game for forwards in the Predators organization. With the recent coaching change and the more offense-heavy playing style, it's time to see if potential can be realized.
---
PHOTO CREDIT: Sarah Fuqua (used with permission)