Marek Mazanec has been named the NHL's Rookie of the Month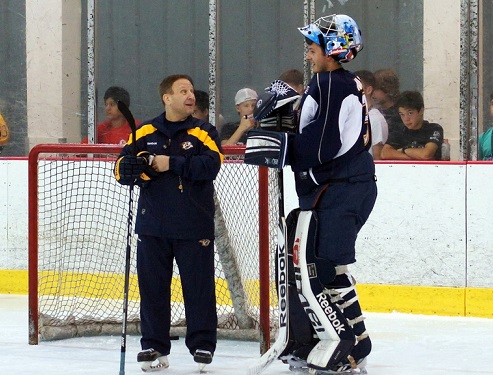 When Pekka Rinne was put on the indefinite shelf due to a E. coli infection in his surgically repaired hip, it was thought veteran AHL goaltender Carter Hutton was going to be the guy. Matter of fact, 2011 second round pick and Milwaukee Admirals starter Magnus Hellberg was called up to fill the back-up role.
But neither Hutton nor Hellberg would become the starter. Instead, it was a first-year North American pro named Marek Mazanec.
The 2012 sixth round pick backstopped HC Plzen to the Czech Extraliga Championship last year at just 21 years old. In the summer, the Preds brought him over to this side of the Atlantic to have him learn the North American game behind Hellberg in Milwaukee. He got his first NHL call up on November 5 in an innocent swapping of goalies between Nashville and their AHL affiliate.
After Hutton had a couple of rough outings on the 17-day road trip, Mazanec was given a chance to take the reigns. He never looked back. He won just half of his 10 decisions in November but posted two shutouts and allowed just 21 goals in his 11 games, earning him Rookie of the Month honors.
The official press release is below.
***
NEW YORK (Dec. 3, 2013) – Nashville Predators goaltender Marek Mazanec, who posted a 5-4-1 record with a 2.00 goals-against average, .932 save percentage and two shutouts in 11 appearances, has been named the NHL Rookie of the Month for November.
Mazanec edged New York Rangers left wing Chris Kreider (4-9—13 in 15 games), San Jose Sharks center Tomas Hertl (5-5—10 in 13 games), Los Angeles Kings center Tyler Toffoli (4-5—9 in 13 games), Colorado Avalanche center Nathan MacKinnon (4-5—9 in 14 games) and Boston Bruins defenseman Torey Krug (3-6—9 in 15 games) for the honor.
Mazanec, 22, made his NHL debut Nov. 8 versus the Winnipeg Jets, stopping 22 shots in relief of Carter Hutton. He recorded his first victory with a career-high 39 saves in a 7-2 win over the Chicago Blackhawks Nov. 16. Mazanec posted his first career shutout in the following game, making 27 saves in a 2-0 triumph over the Detroit Red Wings Nov. 19. He added his second blank sheet with a 19-save performance in a 4-0 victory over the Columbus Blue Jackets Nov. 27.
Mazanec, a native of Pisek, Czech Republic, was selected by the Predators in the sixth round (179th overall) of the 2012 NHL Draft. He joins fellow Czech Republic native Hertl (October) as a Rookie of the Month winner this season.
Marek Mazanec in November
| | | | | | | |
| --- | --- | --- | --- | --- | --- | --- |
| Date | Opponent | MIN | SA | SV | GA | Result |
| Nov. 8 | at Winnipeg | 51:37 | 24 | 22 | 2 | 5-0 loss (no decision) |
| Nov. 12 | at NY Islanders | 57:40 | 33 | 30 | 3 | 3-1 loss |
| Nov. 15 | at Pittsburgh | 39:48 | 25 | 21 | 4 | 4-1 loss |
| Nov. 16 | CHICAGO | 60:00 | 41 | 39 | 2 | 7-2 win |
| Nov. 19 | at Detroit | 60:00 | 27 | 27 | 0 | 2-0 win |
| Nov. 21 | at Toronto | 60:00 | 26 | 24 | 2 | 4-2 win |
| Nov. 23 | NY RANGERS | 58:25 | 34 | 32 | 2 | 2-0 loss |
| Nov. 25 | PHOENIX | 60:00 | 31 | 29 | 2 | 4-2 win |
| Nov. 27 | at Columbus | 60:00 | 19 | 19 | 0 | 4-0 win |
| Nov. 28 | EDMONTON | 58:09 | 27 | 25 | 2 | 3-0 loss |
| Nov. 30 | PHILADELPHIA | 64:57 | 24 | 22 | 2 | 3-2 loss (shootout) |
| Totals | | 630:36 | 311 | 290 | 21 | 5-4-1 |
—
PHOTO CREDIT: Sarah Fuqua (used with permission)