What the Experts Say: Jonathan-Ismael Diaby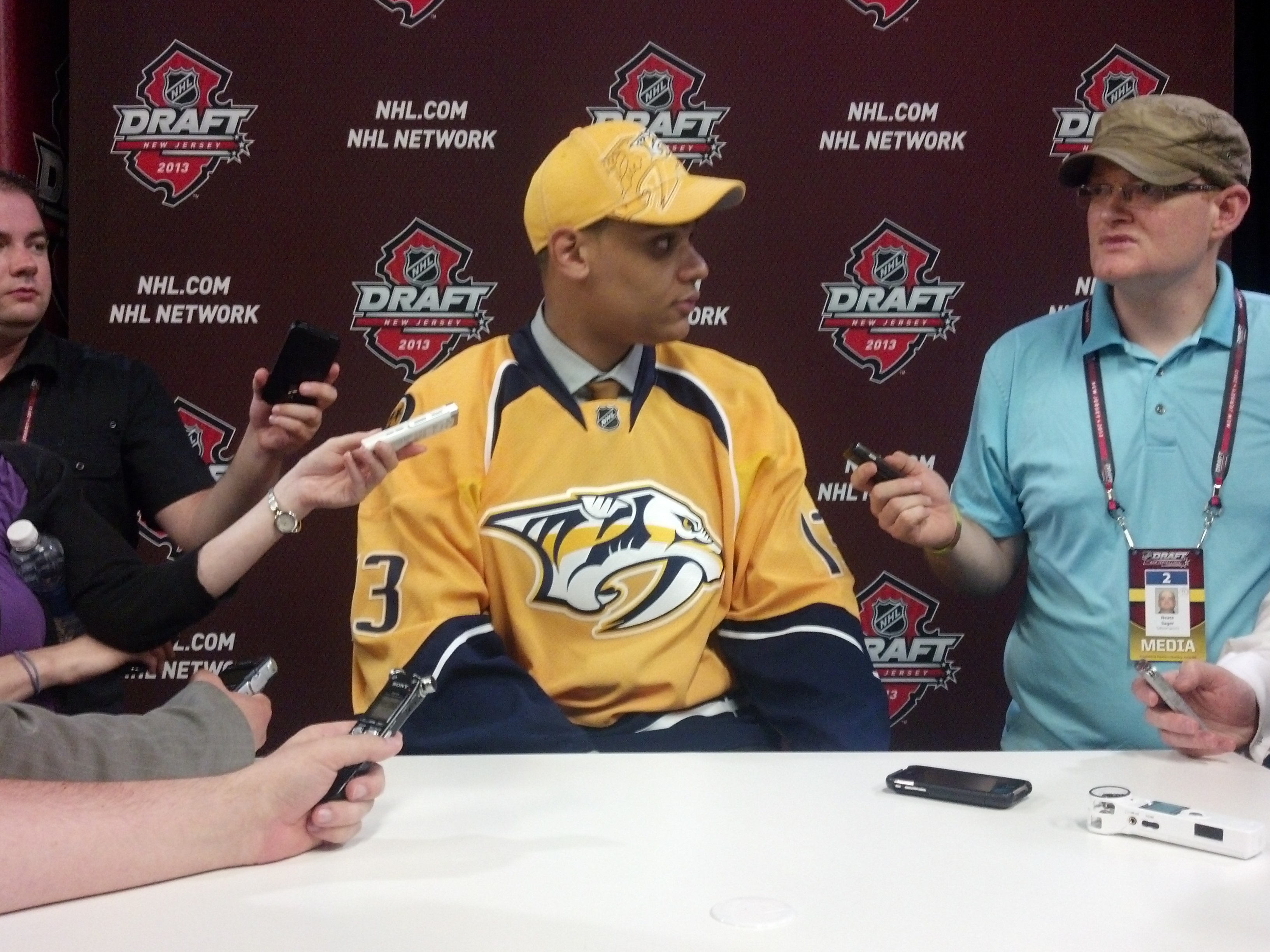 All of our draft coverage is presented by Copeland Wealth Management. They help build and maintain wealth through a combination of customized direct investment strategies, trusted relationships and comprehensive financial planning. By helping you reach your financial goals, they reach their most important goal: becoming your trusted advisor.
***
The Nashville Predators used their second pick, 64th overall (third round), to pick defenseman Jonathan-Ismael Diaby.
THE BASICS
Team: Victoriaville Tigres (QMJHL)
Position: defense
Age: 18
Height: 6'4″
Weight: 225
RANKINGS
THN: 50
McKeen's: 45
Central Scouting (NA skaters): 37
Hockey Prospect: 70
TSN's Top 75:
Hockey Prospectus: 83
WHAT THE EXPERTS SAY
Corey Pronman (Hockey Prospectus): "His skating has developed well, which has helped his prospect stock, although he is still just an average skater. He moves well for a big man, and with his wingspan, he is able to make a lot of stops with his stick when he is not forcing attackers off of pucks. While he is aggressive, he is also a smart player, and he will not take ill-advised risks. He positions himself well, and he won't hurt his team with his puck play."
McKeen's: "a tough, conscientious defender with imposing size and range .. thinks 'defense' first… attends to threats and doesn't get ahead of himself… strives to be diligent in his positioning – wants to be in the right spot – but is still learning to make better reads… shows improving poise and decision making in all areas, and particularly as a puckmover… hands are strong albeit not overly skilled… demonstrates a maturing awareness and vision in possession – and is gradually reducing the errant, curious choices that creep in occasionally… smooth and mobile for a big man with ample footspeed and lateral agility… graceful mechanics, pivots, transitions."
HockeyProspect.com: "What caught our eye first about Diaby is his ability to play in a 1-on-1 situation. His improved mobility allows him to react well and make an excellent use of his body and stick to stop his opponents. A prime example was in a game against the Halifax Mooseheads when he spent all night defending Nathan MacKinnon and Jonathan Drouin. Diaby was a step-ahead of them the entire time and did a great job defending them. He also displays impressive strength along the board and in front of the net."
Ryan Kennedy (The Hockey News): "A team-high plus-12 for the Tigres, Diaby is a defense-first blueliner who can dish out punishment and has no problem dropping the gloves, something he did nine times this season… Talent hawks would like to see him think the game better but saw him make strides in that area… The key for Diaby in the short-term will be playing within his capabilities. He's not a puck-rusher and won't be counted on for a ton of offense, though he did place second among Victoriaville blueliners this season."
Ben Kerr (Last Word on Sports): "Diaby is best known for his defensive prowess.  He's got the size that NHL teams crave, and he absolutely knows how to use it, playing a rugged and very physical style.  He loves to hit and punishes opposing forwards if they try to get by him along the boards.  He clears the crease, and uses his size advantage to dominate board battles."
TWITTER
@jonathan_diaby
—
PHOTO CREDIT: Jeremy K. Gover // section303.com