3 Minutes With: your newest Predator, Brandon Yip…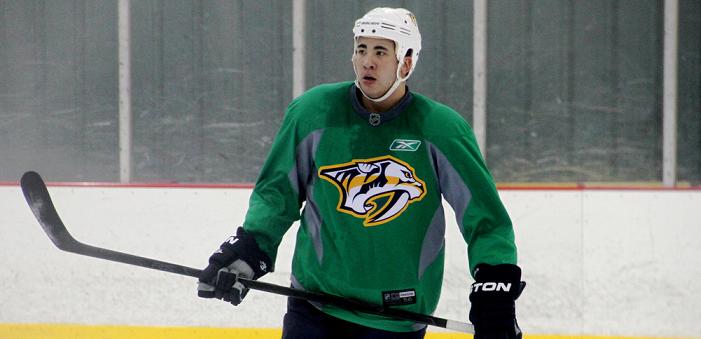 After Friday afternoon's practice session, we sat down with the newest Nashville Predator, Brandon Yip. We talked to him about the change of scenery, his frustration with the injury bug and the limbo he was in during the waivers process.
Without further ado, we'd like to introduce you to #18, Brandon Yip.
***
section303.com: You had a strong campaign your rookie year but you've battled injuries recently. How frustrating is it to go through a series of injuries and not be able to play?
Brandon Yip: It's the worst, to be honest. It's really frustrating. It's a big part of the games and a lot of guys go through but, unfortunately, I've been injured a little more than most, you could say. I'm just excited to get back out there and I'm ready to go.
303: There are obviously worse places to get claimed by. What was your reaction when you found out Nashville claimed you and what have you heard about the organization?
BY: I've heard nothing but good things. I got a lots of text messages and calls after I got the news. Everything they said was encouraging. They said "Nashville is great," You're going to love the place." and "You're going to fit into their program." It was really nice to hear that. Nashville, the city itself, I've always liked to come here, it's a cool atmosphere. I couldn't be happier.
303: What is that waiver situation like for a player? I mean, you're kind of in limbo there.
BY: It's a tough 36 hours. You're sitting there on the phone, talking with your agent, wondering where you're going to go or if you're going to go play in the minors or what not. I was just renting a place in Denver but you have to pick up and move just like that. It's definitely nerve racking but, as soon as I got that call that said "You're going to Nashville," I was smiling ear to ear. I was pumped. I was ready to go.
303: For those who don't know, explain how you know some of the guys in the room here.
BY: I played with (Shea) Weber when we were younger on a summer team for a couple years and I went to Boston University with (Colin) Wilson. It's nice to see a couple familiar faces and all the boys seem like great guys and have really made me feel welcome.
303: You won the National Championship at BU with Wilson. Did you guys play on the same line that year?
BY: We actually played on the same line the year before. In my senior year, they split us up. Obviously, we played together on the power play and every once in a while but, for the most part, we were on different lines. But we're pretty comfortable with each other.
303: You think Colin maybe dropped your name there? Like, "Hey…. pick this guy up."
BY: *laughs* Oh I don't know how it all went down but I'm sure they asked what kind of guy I was. They definitely did some background checks but, yeah, it helped to have a couple relationships here.
303: How excited are you for Saturday's game?
BY: I'm so excited I don't think I'm going to be able to sleep tonight. I'm just excited to play and, to play for Nashville… they're always a contender and they're always a great time. I love the way they work out there and hopefully I can fit right in and contribute right away.
—
PHOTO CREDIT: Kristen Jenkins // Flickr (used with permission)