REACTION FROM BOTH SIDES: Paul Gaustad…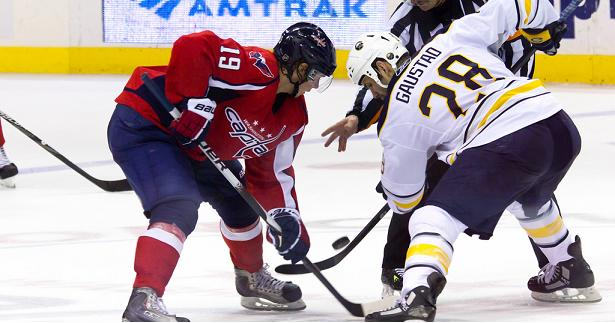 REACTION FROM NASHVILLE (by section303.com)
Former Preds fourth line center Jerred Smithson was dealt to the
Florida Panthers last week because, quite frankly, he had been passed
up by younger guys with higher offensive upside. The removal of
Smithson from the lineup, however, meant that there was a serious need
for a face-off specialist and a solid penalty killer.
Enter Paul Gaustad.
The man they call "Goose" will be relied on to kill off penalties, win
critical face-offs and even be out on the ice during the final minute
of games in order to preserve victories. Gaustad also gives the
Predators a well balanced attack. Head Coach Barry Trotz can now roll
four lines, all of which are a threat to score. Matt Halischuk, for
example, will most likely flank Gaustad on the fourth line and he has
12 goals.
Not to be overlooked is Gaustad's size. His 6'4″, 230 pound frame will
help the Predators bulk up up front, something that's been a problem
in postseasons of yore.
REACTION FROM BUFFALO (by Black, Blue & Gold)
For the $2.3 million cap hit he commanded, fans (and the organization) in Buffalo expected more out of Gaustad. 3rd line center, 20 goals, that kinda thing. That's not Gaustad. What he is, though, isn't bad. He's a fourth line center that'll score 12 goals and get into half a dozen fights to stick up for teammates. Fans thought they'd be getting a new goon after he jumped Alex Ovechkin in 2007 in response to a bad hit on Danny Briere, but Goose is a guy who fights when needed instead of when he wants. Where he'll shine is on the penalty kill and in the faceoff dot. Goose uses his size to take away lanes and he's got a vision for the kill he developed by playing with veterans like Mike Grier and Jay McKee. In overtime, PK and 5-on-3 situations, he bosses the opposition. In the faceoff circle, Gaustad consistently places top 10 in the NHL in wins. He's a guy the Sabres have relied on for years in late situations when the game is on the line. After perfecting his craft, he had begun taking younger Sabres under his wing to help them improve their own numbers. That kind of production and dedication is needed in Nashville, which is 23rd in the NHL in faceoff wins.
If there's a downside to Gaustad, it's that his meager production evaporates in the postseason. Through 38 playoff games, he's only got 8 points to his name and all of them are assists. For a guy whose leadership was talked up so much as part of the Sabres core, it brought down a lot of negativity during their embarrassing first round exits.
In the end, Gaustad is the kind of player who doesn't take his NHL career for granted. His skating was so bad as a peewee that he was never given a shot to make the NHL. He worked his tail off from bantams through the minors to make the show. He's going to go hard every shift, doing his damnedest to keep the opposition from scoring and maybe putting a puck through every once in a while. He'll be a fan favorite in Nashville, where the vocal fans of Bridgestone Arena will bellow "Goooooose" in appreciation.
—
PHOTO CREDIT: Bridget Samuels // special to section303.com (used with permission)