A letter from Tom Cigarran, Nashville Predators chairman…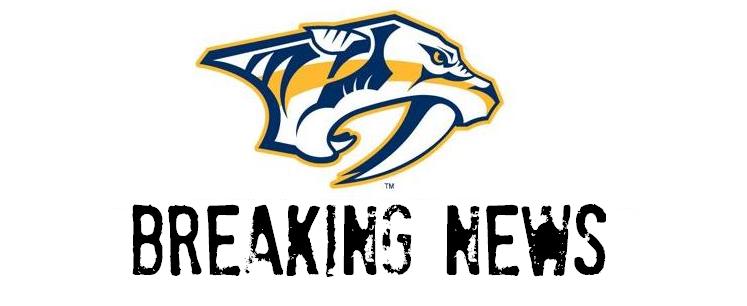 The e-mail below was sent out to Nashville Predators fans Tuesday afternoon.
***
To Predators Season Ticketholders, Partners and Fans,
In the most important hockey transaction in franchise history, we are pleased to share with you the news that, after much careful analysis, we have decided to match the 14-year, $110 million offer sheet to Shea Weber, insuring that Shea will be your team's captain and leader for the next 14 years!
As you might imagine, there was no debate whatsoever regarding whether or not we wanted Shea. That was indisputable. He is our first homegrown team captain. He has been selected to the First All-Star Team in each of the last two years. Though he has finished second in the Norris Trophy voting in each of the last two seasons, we believe he is the best defenseman in the National Hockey League. And he will remain a Nashville Predator, thanks to a 14-year, $110 million contract – the biggest in Nashville's 15-year existence and largest in Tennessee professional sports history!
You may recall that last summer we shared our vision for the Predators' future. As part of our vision, we believed we were entering our Window of Opportunity in which with Shea and Pekka Rinne entering their prime years, we could compete on an annual basis for the Stanley Cup. We entered the 2011-12 season as the youngest team in the NHL, but through the support of longtime Predators Martin Erat and David Legwand; the commitment from experienced veterans Mike Fisher, Paul Gaustad and Hal Gill; another year of development from rising stars Craig Smith, Colin Wilson, Ryan Ellis, Gabriel Bourque and Roman Josi; and consistent performances from Patric Hornqvist, Kevin Klein and Sergei Kostitsyn, we are confident in our ability to build on last season's performance, where we were the only Western Conference club to advance to the second round of the playoffs for the second consecutive season. The goal was to surround our core players with young talent that could grow, mature and compliment these players for several years to come. We are very much in our Window of Opportunity.
With Shea's return, our roster for the 2012-13 season is rounding into form. We have 13 returning forwards, five returning defensemen, and Pekka back anchoring our goaltending. Ownership continues to give General Manager David Poile and his staff all the necessary resources to compete for the Stanley Cup this season and for years to come!
We did not take or make this decision lightly and we recognized the many ramifications it would have. Retaining Shea sends a powerful message to our own players and potential players that Nashville is a team that is in the hunt to win and this is a desirable place to play!  Other teams will now know the Predators will do everything possible to retain its own star players and cannot be viewed as a franchise that can be raided.
And for you, our fans and partners, this is a reinforcement of our understanding of our mission and our commitment to you. We are so appreciative of your support and never take it for granted. Your unwavering faith and belief in us is paramount. That support and passion is critical to our success.
With this decision behind us, we continue to focus on our mission:  Develop Bridgestone Arena into the number one sports and entertainment facility in North America with a Stanley Cup-winning Nashville Predators team as the centerpiece. With Shea Weber in the fold for the next 14 years, we will continue to contend for the Stanley Cup on an annual basis with a team anchored by one of the top goaltenders and top defensemen in the game.
Thank you for your support and we can't wait for the 2012-13 season to start and Shea Weber to lead the Predators!
Sincerely,
Tom Cigarran
Chairman, Nashville Predators