A sad yet inevitable day in Nashville: Sullivan will not return…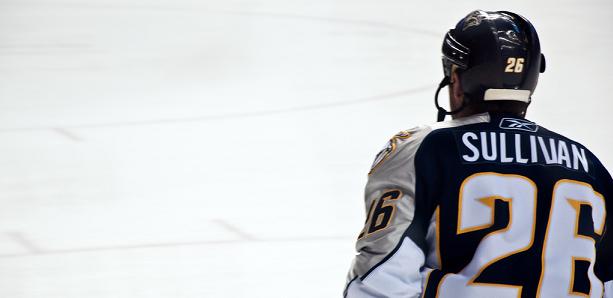 When The Tennessean's Josh Cooper reported that the Nashville Predators would not be offering Steve Sullivan a new contract, it wasn't a shock to anyone. But that doesn't mean it didn't make it a very sad day in Middle Tennessee.
Sullivan was the first star hockey player to call Nashville, Tennessee home. He came to the Predators by way of the Chicago Blackhawks on February 16, 2004. On February 18, he announced his arrival with a hat trick and an assist against the San Jose Sharks.
After posting better than point-per-game numbers his first three seasons in Music City, the "Timmons Tornado" suffered a back injury that would keep him out nearly two full years. The Predators stuck by him though, being patient with his progress. They were eventually rewarded when, on January 10, 2009, Sullivan took the ice for the first time in 687 days. He was held pointless but the fact that he took the ice at all was an incredible feat. It was so incredible, in fact, that after tallying 32 points in the final 41 games that year, Sullivan won the Masterton Award, given annually to the player "who exemplifies the qualities of perseverance, sportsmanship, and dedication to ice hockey."
He went onto amass 73 points in his next 126 games but injuries continued to be a problem. He missed all of January (and then some) with a lower body injury and then all of March (and then some) with a sports hernia. Sullivan, 36, just couldn't seem to stay healthy this year. And, on a squad that was decimated with injuries up front, the last thing Nashville needs next year is a forward who has trouble staying healthy. Let alone one who's age puts him in a non-insured contract. So, in all honesty, it's time for him to move on.
Sullivan was a fan favorite from the moment he laced up his skates on lower Broadway until his last game in a Predators sweater on May 3, 2011. He was a class act off the ice as well, always giving back to the community and even going so far as stating that he wanted to retire with his family here in Nashville.
If he can stay healthy, wherever he goes, he will contribute. But the city of Nashville hopes that, wherever he goes, he wins a Stanley Cup. Unless it's at Nashville's expense, of course.
Good luck, Sully. There's a standing ovation waiting for you when you come back.
—
PHOTO CREDIT: Paul Nicholson // special to section303.com (used with permission)